Position Summary
Position: Account Manager, Sales Team 
Location: Montreal
Term: Permanent
PCD Solutions, now a Converge Technology Solutions company, is offering the opportunity to join an outstanding team of IT and Cloud solution specialists.
Our four core areas of expertise are:
• Virtual Workspaces
• Datacentre Transformation
• Public Cloud Architecture
• Data Protection and Management
The Account Manager must have extensive experience in IT sales in the areas mentioned above, including professional services as an important asset. PCD Solutions is known for its ability to guide clients through their infrastructure modernization initiatives and hybrid Cloud approach implementation. The Account Manager's main role is to know how to engage in discussions about the client's actual needs and challenges and to generate interest in meeting our experts to explore how the PCD team could be involved.
The selected candidate must be able to develop strategic relationships at many levels: with IT executive decision-makers, their key influencers, procurement departments and sometimes even other lines of business. A consultative approach and the ability to act as a trusted advisor are the main assets for this position. This sales role is focused on business development with both new and existing clients. These development efforts are directly supported by a strong team, namely our experienced solution architects, internal sales team, senior advisors, partner relationships and a dedicated marketing team.Thanks to its Innovation Centre specializing in Cloud infrastructure and its virtual format, PCD Solutions stands out in the industry. Furthermore, as a Converge company, PCD benefits from a wide range of additional expertise and capabilities throughout North America in Cloud solutions, cybersecurity and artificial intelligence.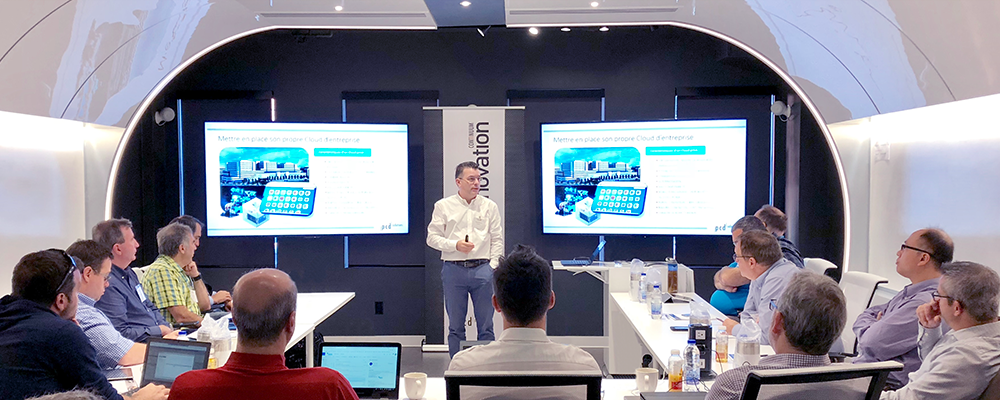 Responsibilities
• Understand prospective and current clients' business needs, organization, challenges and financial model
• Position technological solutions and expertise in the client's business context
• Participate in the development of value-added propositions for IT solutions that meet clients' needs
• Build long-term relationships with clients and key contacts at all levels
• Coordinate the necessary interventions with peers in pre-sales, consulting services and partners to achieve objectives
• Meet and exceed sales and profits objectives for the assigned region
• Develop and execute a strategic regional plan to maximize sales and optimize profits
• Excel in all sales processes and opportunity management: canvassing prospective clients, business development, closing sales and client satisfaction management
• Participate in training and obtain certifications required to stay up to date
Requirements
Recommended training
• Bachelor's degree in computer science, engineering, business administration or other relevant experience
Experience
• Consultative sales to IT executives and leaders
• Minimum of five (5) years of experience in IT solution sales
• Knowledge and experience in IT Cloud solutions, datacentres, data protection and/or desktop virtualization
Skills
• Business development skills
• Consultative sales skills
• Ability to sell IT business solutions
• Business acumen
• Ability to negotiate
• Strong ability to learn
• Client satisfaction-oriented
• Oral and written communication skills, both in English and French
• Interpersonal relationships skills
About PCD Solutions
PCD Solutions is a specialized integration partner for enterprise Cloud infrastructure and datacentre solutions. For almost 20 years, the PCD Solutions team has been supporting clients through datacentre transformation and modernization projects. Our company has extensive experience in solution design and deployment using several platforms such as VMware Cloud, MS Azure, AWS, IBM Cloud and Google. PCD has more than 100 major private and public sector clients in Canada, including many TOP 500 businesses.
First and foremost, PCD / Converge is about its people: specialists and advisors who are passionate about everything related to innovation. Passionate about the new challenges posed by the hybrid Cloud era, digital transformation, cybersecurity and artificial intelligence. Passionate about client relationships and the role of trusted strategic advisor we are called to take on with many clients. PCD / Converge is all about this unique expertise, multidisciplinary experience and knowledge exchange that we apply, better than anyone, to help our clients successfully implement their initiatives.
To stay at the top and keep growing, our organization continues to invest in developing skills and researching new solutions. This highly stimulating and dynamic environment values diversity, new ideas, initiative and the strengths that each individual brings, all while maintaining the right balance between work, recognition, health and family life.
Based in Ville Saint-Laurent, PCD has numerous clients ranging from large companies to PMEs to public organizations in Quebec.
In February 2020, PCD Solutions joined the Converge Technology Solutions family, seeing a natural fit with its hybrid Cloud offerings and related fields such as cybersecurity and artificial intelligence.
**Please note that only candidates selected for an interview will be contacted.