About the CONTINUUM Innovation Centre
PCD Solutions and VMware, in collaboration with Hitachi Vantara have just launched the CONTINUUM Innovation Centre. The state-of-the-art equipment housed at the Centre makes this facility a true centre for education and the ideal place to showcase new options for managing hybrid cloud environments.
This technological centre, based in Montréal, is designed to help businesses clearly visualize the future transformation of their data centres using the VMware SDDC (Software-Defined Data Centre) approach. Through presentations, workshops, and demonstrations, companies will now be able to better understand how the cloud can help them improve the management of their environments and services. The Centre will also make it possible to see the benefits of standardizing and automating IT processes "in action."
Supported by a full team of architects, technical experts, and systems engineers, the CONTINUUM Innovation Centre is truly a first in Canada.
YouTube Video
In the following online video, you will learn more about the Innovation Centre and the opportunities available to you and your business. Take a few minutes to learn what it is all about, and please feel free to contact us for more information.
Video (In French only)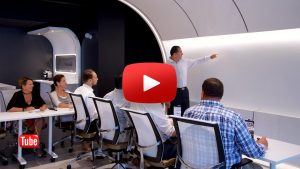 Click here to watch the video.
Who Is the Innovation Centre Designed For?
Since the arrival of the cloud, and in particular the hybrid cloud, many clients have been wondering how it works and what impact it will have on their businesses, their data, their technological direction, and their future investments, among other things. To respond to these concerns, PCD Solutions decided to launch the Innovation Centre initiative. Designed for both IT executive management and architecture and operations teams, the goal of the initiative is therefore to:
Present companies with the latest innovations and opportunities available through the hybrid cloud
Demonstrate the ease of use and quality of integration of the various VMware cloud products
Clarify how data centre operations work with the Software-Defined Data Centre approach
Share with our customers how our private cloud environments will gradually connect and tap into specific services from public cloud providers such as Amazon, Microsoft, IBM, ThinkOn, etc.
We also wanted to go one step further in helping clients understand new technologies-we wanted to demonstrate these technologies IN ACTION! The field of cloud computing is sometimes complex and abstract. When we decided to set up this initiative, we thought it would be a good idea if people could actually see how the cloud could help them better manage their environment and their services. So, we recreated several possible scenarios in our labs to show you how IT teams could manage their services in the future.
What Are the Benefits?
By living the experience at the Innovation Centre, clients will first be able to understand what the cloud is today in its various forms (public, private, and hybrid). They will also be able to better understand its features, key components, and how the cloud operates. We demonstrate all this using whiteboard workshops, multimedia presentations, case studies, and our TechnoLab.
This way, everyone will not only be able to experience the current transformation of the industry, but see that it is both possible to build their own internal cloud, to implement controls on the consumption and security of external services, or of course, as is often the case, to do both.
Come See Us!
The future-focussed CONTINUUM™ Innovation Centre is a major PCD investment. It allows our experts to demonstrate the operation and benefits of VMware's most recent cloud solutions right here in Montréal and in French.
Serving as both a presentation room and a laboratory for conducting simulation and proof-of- concept exercises, it is actively used by VMware and our own team. Since December 2017, we have been able to conduct training sessions, discovery workshops, and customized technical demonstrations by virtually recreating the context and conditions of your very own corporate environment.
So, call us! Come see all the possibilities and opportunities offered by the CONTINUUM Innovation Centre for yourself.
Pierre Cayouette,
Co-président — PCD Solutions
Courriel : pcayouette@pcdsolutions.com