The VMware platform in the multi-cloud era

Over the last 10 years, cloud has had an impact that's almost immeasurable. We take for granted now our ability to move at a speed and scale that were unthinkable just a few years earlier. And it's increasingly the norm to see businesses and even entire industries reinvent themselves and the way they connect with customers, business partners and communities through digital services and most recent tech innovations.
I've been thinking about this a lot over the last year as I saw the well-understood concept of digital transformation take on increased focus. COVID may not have created digital transformation. But it certainly made it more relevant and urgent. It's easy to dismiss Digital Transformation as a marketing term. But this is now a boardroom discussion, touching on existential topics that will drive a new wave of modern apps and multi-cloud services for nearly every business.
Today we see incredible demand for digital–first services, from telemedicine to distance learning to touchless systems in retail and financial services. Nearly three-fourths of businesses are expanding their investment to create new services that engage customers or support what is now a long-term remote workforce with the tools to be more productive. It's one of the reasons why we see cloud adoption accelerating faster than ever, with cloud deployments in multiple use cases. These range from extending existing data centers to the cloud, creating development environments, and using the cloud for disaster recovery infrastructure. 84% of IT executives are prioritizing the modernization of their legacy apps and 76% are working on the migration of services to the Public Cloud. Above all, they seek to optimize the use of their IT resources and evaluate which services should be placed on the Public Cloud. The message is clear, the apps and services powering businesses today simply must evolve to meet the needs of the business in the future.
But the reality is much more complex, with countless roadblocks slowing transformation. The pace of business-wide transformation is stalled as customers contend with applications in different environments, platforms and different stages of modernization. Most organizations are already using multiple clouds depending upon application type, cloud capabilities and organizational preferences. Factors such as M&A make this even more common. And as companies rethink how to engage customers and retool their factories and supply chains, the edge is becoming a new and even more attractive environment for delivering the next generation of applications while better supporting security and data protection.
So this new IT world CIOs are forced to grapple with is one of heterogeneity. Incompatible architectures between clouds, diverse management and operations, and inconsistent security policies combine to bring a level of complexity and risk that challenge the inherent benefits of multi-cloud. And the result is a growing tension for CIOs. They see where they need to go and know precisely how challenging it is to get there.
We see a model for cloud that is both increasingly distributed and diverse – with apps deployed across a range of public clouds, within the data center and at the edge – but unified with centralized management and operations, centralized governance and security. This distributed multi-cloud model delivers the flexibility to build and run any application in the best environment, and access to the vast array of innovation from cloud providers, along with a unified model for security and operations at the level every enterprise demands.
This is the vision behind VMware Cloud.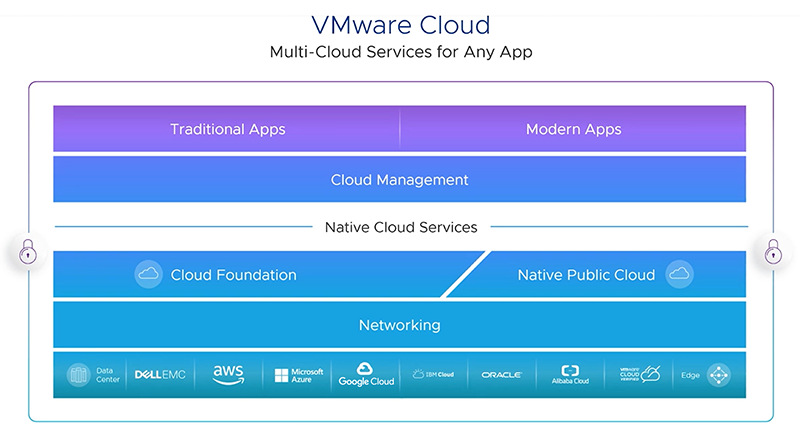 VMware's latest announcements
VMware has announced a new subscription offering called "VMware Cloud Universal" – which is a SaaS service which includes all of VMware Cloud management features and recent innovation. Also, "VMware Cloud", which is a concept inclusive of all cloud-based VMware offerings for its software platform 
VMware Cloud™ is the multi-cloud platform for all apps across the data center, edge, and public cloud vendors. VMware Cloud enables modular, multi-cloud infrastructure, app, and management services that accelerate app modernization and cloud transformation to deliver innovation for customers faster than ever.

VMware Cloud Universal™ is a new flexible SaaS subscription offering that delivers enterprise-class multi-cloud infrastructure and operations by combining compute, storage, networking, management, and modern application services with customer entitlements to flexibly deploy VMware Cloud infrastructure across private cloud, local cloud, and public cloud.
VMware Cloud: Managing IT services in a multi-cloud reality

If you haven't watched the video of the VMware Cloud launch yet, we invite you to do so and take advantage of the testimonials from AWS executives, Dell Technologies and some clients during the "Leading Change: Accelerating Your App and Cloud Transformation" session.
How can PCD Solutions help you?
All of these new solutions naturally present more choices, which need to be evaluated and, sometimes, require a more formal assessment process. Having been involved in many Cloud projects using VMware, Microsoft Azure, AWS and partner products, PCD Solutions can help you accelerate your project.
Questions?
Please don't hesitate to contact us. It would be our pleasure to assist you.
Marc De Grasse,
Senior Technical Advisor
Email: mdegrasse@pcdsolutions.com
Source – This article is based on the publication of RAGHU RAGHURAM from VMware on the VMware Cloud Community Blog.