A look at collaborative solutions to deal with the IT complexities of the Modern Workplace.
Our tried and tested workplace models have been tested over the past two years due to the COVID-19 pandemic. This has pressed organizations around the globe to reconsider their approach to managing people, spaces, and technology. 
For knowledge workers, hybrid working is now the norm. This newfound ability to work remotely seems to have helped boost productivity, improved work-life balance, and given employees more control over how they work.
Employees love it so much that 3 out of 4 say that maintaining flexibility in work location and work hours will directly influence whether they will stay at their job.
While it has removed some barriers to collaboration, like all change, the transition to the Modern Workplace has not been without its challenges. 
The influx of information and new technology and a distributed workforce has made everything from modernizing infrastructure, security, management, configuration and delivery of devices, and deployments more complex.  
Luckily, these problems can be easily solved with the right collaborative solutions.
Security Implications 
Something as simple as employees using apps to collaborate with coworkers that IT has not approved can be problematic. These apps are not always built with security in mind and can present an enormous risk to your organization. 
Add to that the complexities of a distributed workforce that connects to your network from airports and coffee shops, multiple devices per worker to secure, and technology that seems to evolve faster than enterprise can keep up. 
Products like Azure Active Directory, a security and access management solution, make it possible to protect end-users from 99.9 percent of cybersecurity attacks with the ability to remotely control single sign-on, multifactor authentication, and conditional access. 
A thorough evaluation of your security posture using Zero Trust assessments is highly recommended for those transitioning to a remote or hybrid work environment.
Management Implications 
IT teams now have far less visibility into people's tech issues when working remotely, making it harder to troubleshoot and solve them.
Operating systems like Windows 11 and Office 365 help solve some of these challenges by providing an innovative and efficient operating system, mission-critical enterprise-grade security tools, and seamlessly integrated workplace productivity apps. 
They provide IT professionals with greater control to customize features and apps, manage and secure devices remotely, and deliver virtual desktops. They also make it easier to roll out updates, so you save time and money. 
This is important as 50% of IT managers say they spend too much time managing devices, with 14% of IT personnel's time going to device management. 
For even more support, next-generation managed IT services providers like ExactlyIT, a Converge Company, offer a white-glove experience through total operational transparency, flexible agreements, and a focus on driving business value through IT services.
These services can provide more capability to your end-users, and free up your IT team to focus on more innovative ventures.
Deployment Implications
Traditionally, deploying business devices required that an image be created and copied onto each device, one by one. For this to happen, the device had to be in the hands of IT employees before being delivered to each employee and installed for them. 
This time-consuming process becomes even more complex when employees work remotely and are spread out across a city, a country, or even the world. 
To address this, brands like Microsoft Surface have pioneered zero-touch deployments. Equipped with a combined Microsoft software and hardware solution, including Autopilot, imaging, and enrollment can all be done remotely on Surface devices. This makes them ready to use as soon as it is taken out of the box. 
Some of the many benefits include the ability for employees to get set up faster and a lower total cost of device and software ownership. 
According to some studies, Autopilot reduced the process of configuring devices by an average of 25 minutes per device. Application provisioning time was reduced by 2.6 hours per application request. Device security and customization times were reduced by 2.5 hours per device.
Device Implications 
Before worrying about the deployment, management, and security, all those devices must be procured and delivered to the end-user. If options for Microsoft Surface Zero-Touch deployments are not available, they also must be configured. 
Purchasing a PC, tablet, or phone may seem easy. However, buying thousands of devices and delivering them to as many remote workers requires a little logistical know-how. It can also be very labour intensive and put a significant burden on your in-house IT team. 
That is where companies like ours shine. Millions of devices have already been configured at our state-of-the-art assembly facility in Ottawa. We have also navigated complex deliveries, ranging from mass deliveries to busy downtown locations to hand-delivering devices to the homes of tens of thousands of workers. 
Also, devices break ALL THE TIME! Being able to replace them quickly is key to keeping productivity up. That's why we offer device replacements in under 24-hours.
Infrastructure Implications
Transitioning to the Modern Workplace can also have massive infrastructure implications.
Legacy systems were not all built with remote work in mind and may require significant upgrades.
Also, technology seems to be advancing faster than enterprises can keep up. Any costly infrastructure investments should be made with the future in mind.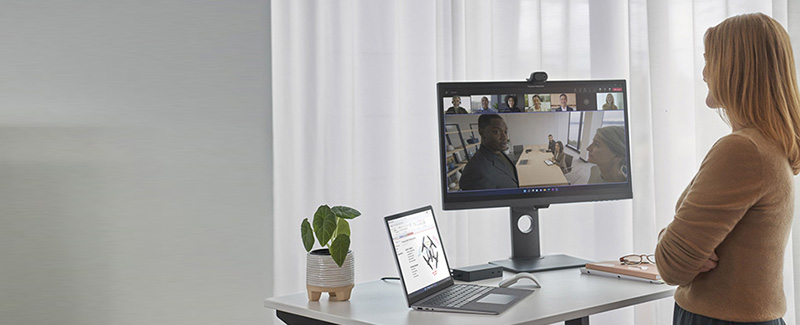 How Converge can help
Making the switch to a remote or hybrid workplace model can be complicated. We have the expertise and solution model to make your migration easy. 
Contact us for access to:
Comprehensive cybersecurity solutions, including Zero-trust assessments
Support with IT management, including managed solutions 
Deployment services, including Zero Touch deployments  
Logistical support for the large-scale purchase, configuration, and delivery of devices, including the full range of Microsoft Surface products
Digital workplace solutions that span the whole of your IT infrastructure
Want to learn more? Sign up for a Modern Workplace Workshop, by Converge and Microsoft experts, at the Converge Innovation Centre in Ottawa.
Learn more about Converge Modern Workplace solutions.
1-https://www.intelligentcio.com/north-america/2022/01/10/cisco-canada-hybrid-work-survey-shows-tensions-between-employee-needs/#
2-https://www.intelligentcio.com/north-america/2022/01/10/cisco-canada-hybrid-work-survey-shows-tensions-between-employee-needs/#
3- HP DaaS Infographic (idc-cema.com)
4-Zero Touch Deployment (microsoft.com)