What Is the Innovation Forum?
As of today, this Forum initiative has brought together IT executives, heads of Operations, Development and Architecture from many large Quebec corporate entities. Each meeting offers presentations by Subject matter experts, Industry Analysts or special guest customers providing their perspectives and project experiences pertaining to the Cloud.
The Innovation Forum enables you to stay up to date with the latest trends, innovations and technological advancements while benefiting from networking and discussions with other participants to compare your company methodologies and internal practices.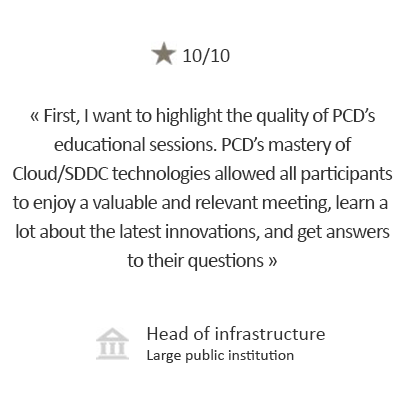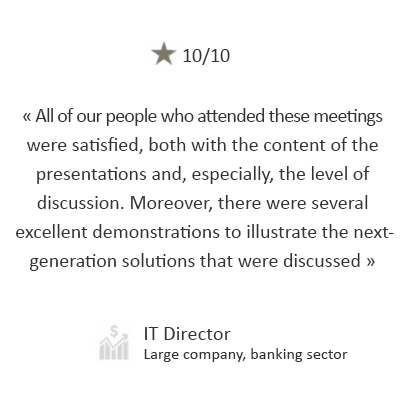 Theme of the meeting: Moving Towards the New Hybrid Reality of the Cloud
If you are thinking about the evolution of your applications and data towards the Cloud, you should, over the course of the next few months make some very important strategic decisions.
For example:
Migrate certain services towards the public Cloud in a coordinated, transparent and secure way.
Create your own private Cloud infrastructure. Move from virtualization to IT orchestration, automation and self-service.
Implement an agile IT infrastructure adapted to the needs of your development team.
Streamline your applications. Move towards a SaaS, PaaS approach, use container technologies and new microservices architecture.
In short, implement governance, management and security measures to stay in control.
Before making any choice, you must first understand and most importantly know the criterias on which you should base your decisions. Allow us, in a single morning, to help you efficiently unravel all the concepts and gain a better understanding of the Cloud market trends.

Primary Topics Covered
Governance, management, and multi-cloud environments
Evolution of the role played by IT teams
Application modernization and streamlining plan
Create the foundation for a Hybrid Cloud approach
Prepare your company for policy-based management and IT automation
IT executives from some of the most advanced companies implementing Cloud solutions in Quebec will be present. Come discuss, in order to compare and contextualize your business practices. Participate in the morning conference workshops led by specialists from VMware, Amazon (AWS) and PCD Solutions as Cloud integrators in the field.
The 4 main speakers
These excellent speakers will present their vision and share their experience of implementing corporate cloud projects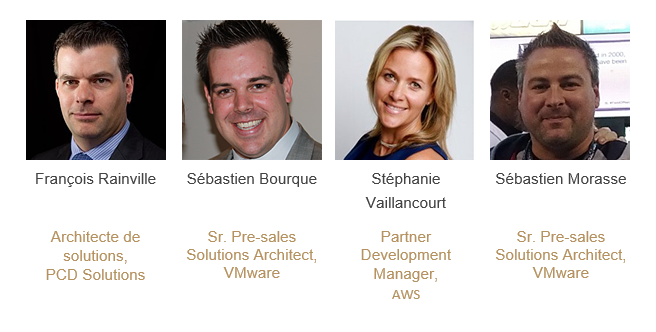 Video – Summary presentation of the session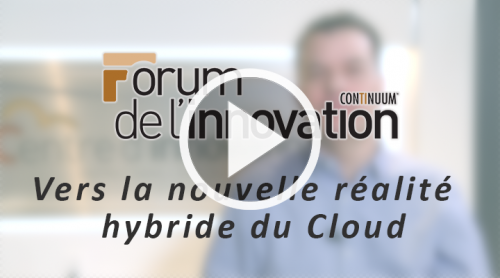 Session details
Date

Thursday, June 6, 2019
Time: 08:15 to 15:00

Where

Complexe ICAR (Mirabel)
12800 Boulevard Henri Fabre, Mirabel, QC J7N 0A6
Agenda
1st Part – Conference Workshops
Towards the New Hybrid Reality of the Cloud
8:15
Registration & Breakfast
8:45
Introduction
9:00
Round table
9:20
Conference Workshops with invited Cloud specialists
12:00
Lunch
12:30
Expert Panel and Question Period
13:10
Presentation Wrap-Up
Presented by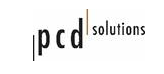 In association with

2nd Part – Networking Activity
The iCAR Supercars experience
13:30
Activity Presentation
14:00
Race Track Driving Training
14:20
Luxury Sports Car track test
15:00
Networking

To register
R.S.V.P. Please complete the form in order to register or if you prefer, communicate directly with us to reserve 1 or more places.
Spaces are limited. Invite only event.
Michelle Guiadem, Marketing Assistant
PCD Solutions
Tel: 514-744-1322 x.260
Email: mguiadem@pcdsolutions.com