Background for the CIUSSS du Nord Project
Through the amalgamation of 5 healthcare institutions, the CIUSSS du Nord de l'Île de Montréal now comprises of:
2 hospitals
3 health and social services centres (CSSS)
12,000 employees
Limited resources
A 70-member IT team
The CIUSSS du Nord has a complex infrastructure and a vast array of needs. The CIUSSS du Nord is currently looking to increase its number of treatment centres from nine to ten and to address a variety of existing technologies that are no longer compatible. In addition to this infrastructure, there are also strategic challenges that have led to a significant consolidation and blending of technology projects, including:
Expectations for immediate IT restructuring
The need for amalgamation
The need to speed up the deployment of services
This constitutes the backdrop for a project to deploy an access solution and to virtualize workstations with the help of PCD Solutions and all VMware Horizon solutions.
Main Objectives
The project's main goal, and one of the biggest challenges facing the institution, is to virtualize the service stations in the Emergency Department at Hôpital de Sacré-Cœur de Montréal. The CIUSSS du Nord's goal is to virtualize 90% of the workstations by the end of the year and to deploy the solution at various residential and long-term care centres and nursing homes. Above all, the organization hopes to provide further mobility and flexibility to physicians and hospital staff, as well as better IT support services.
Choosing the Solution
The CIUSSS du Nord opted for the VMware Horizon Enterprise solution. The main reason for this choice was that "VMware offers workstation virtualization solutions and applications that allow IT departments (…) to supply, protect and manage workstations and applications (…) while maintaining costs."[1] The other reason is that Hôpital Jean-Talon, which is technologically more advanced, has already adopted and expressed satisfaction with this solution.
By applying this solution to the entire CIUSSS and its service locations, it will be possible to automate workstation installation, distribution and deployment in real time without any service interruptions.
[1] http://www.vmware.com/fr/products/desktop-virtualization.html
Benefits for the Organization
"By combing Single Sign-On, VDI and Zero Client technologies, all access, mobility and simplification technological requirements will be simultaneously addressed, creating a fundamental organizational project that will pay for itself. In addition, two full-time IT resources have been released and reassigned to work on the organization's current strategic initiatives."
"In short, all stakeholders in the project benefit from the change. Management is able to free capital expense funds and allow physicians and clinicians to connect quickly and instantaneously to their user environments from anywhere and at any time via their access cards, providing them greater mobility. IT personnel benefit from the harmonization of the technologies and the simplification of their daily management operations."
YouTube Videos of the Project Presentation
Take a moment to watch the interview below with Mr. Sergio Fernandes, Director of IT Resources at the CIUSSS du Nord de l'Île de Montréal. The clip provides more details on how the project was prepared and the benefits that it will provide for the organization.
Video of the Interview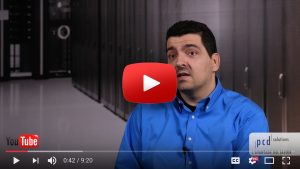 Click here to watch the video. (French only)

For More Information

Please contact us for more information regarding our workstation access and virtualization solution services. You may contact your account director directly or any of our solution architects.
François Rainville,
Solutions Architect, Virtualization and Cloud
PCD Solutions
Courriel : frainville@pcdsolutions.com