A logical follow-up to our last successful TechnoLab session
Since the main theme of this session will be The Trend Towards VMware vSAN and Converged System Architectures, we have assembled a panel of real experts in the field of storage management.
This group of experts includes Pierre Grothé, from the VMware vSAN engineering team, Francois Rainville, a software solutions specialist, and myself, Marc De Grasse, from PCD Solutions. All these people are directly involved in VMware SDDC deployment projects including the vSAN solution as a storage management platform for these companies. Our goal is to use this session to answer the many questions you may have, and to share with you our latest experiences in the field.
The workshops we have lined up will cover:
Switching from a traditional architecture approach to converged systems and technologies. The context in which these converged or hyperconverged systems offer unique advantages. Also, the pitfalls that must be avoided
The operational functioning and benefits of the vSAN solution. The concepts introduced by this solution and the new possibilities opened up by Software-Defined Storage management
Primary use case scenarios targeted by the solution. Some of its limitations, possible alternatives or bypass routes
The benefits to clients once they have deployed the solution to its full potential
Finally, the support role played by the vRealize Operations software in your service-oriented management system
Come and take part in the session so you can better understand the VMware vSAN solution and the best practices related to it. Learn how to maximize the solution's performance and use in your own environment and thus simplify your operations.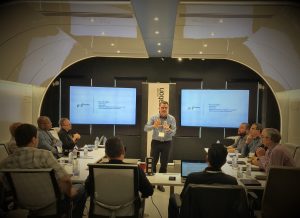 Technolab Sessions—An Ultra-efficient Formula. A Worthwhile Way to Invest Your Time.
PCD's TechnoLab Sessions focus on the deployment of the VMware Cloud/SDDC approach. They are designed to present high quality information, enabling you to update your knowledge on various aspects of implementing a corporate cloud in a half-day presentation format. Group discussions, technical presentations, whiteboard exercises, demonstrations of real-time solutions, question periods—every effort is made with a highly dynamic and interactive formula to allow you to situate your company's current practices and help guide your approach. Sessions are held in our brand new Innovation Centre, giving you the opportunity to see how a cloud and its components work, how it can integrate with public cloud providers, and the advantages of the more recent technologies on the market.
Agenda
8:30 AM – Welcoming & Breakfast with participants
9:00 AM – Opening Remarks
9:10 AM – Round Table
9:20 AM – About the VMware SDDC Approach
9:40 AM – Overview of the VMware vSAN Solution, Francois Rainville
10:20 AM – Software-Defined Storage Management and integration with vRealize Operations Software, Pierre Grothé
11:10 AM –Whiteboard Workshop and Demonstration, Marc De Grasse
11:40 AM – Closing Remarks
12:00 PM – Lunch
The CONTINUUM™ Innovation Centre – A First in Canada
One visit will convince you. Based here in Montréal, the Innovation Centre lets you compare and take stock of your IT practices in the context of transitioning to the hybrid cloud.
Centre dedicated to education and innovation in the field of enterprise cloud solutions
A venue for bringing together the top specialists in the industry
State-of-the-art technological infrastructure
Integration with leading public cloud providers
Ability to clearly demonstrate SDDC VMware Cloud Solutions
Monitoring of market trends and the first major cloud projects in Quebec
To Register
Due to the special format of this event and the limited number of places, we encourage you to contact us directly to see if it is possible for you to join us or to register for the next session.
Please contact us at this address: continuum@pcdsolutions.com. Toll-free number: 1-866-393-1322