The TechnoLab Program lets the experts take the floor to tell you about developments in the IT field
Whatever your industry or line of work, you probably feel that the pace of business is accelerating every day. The needs of your business and your users are evolving, and transforming your IT practices has become essential and unavoidable.
This need for business agility and efficiency, accelerated by the cloud experience in our private lives, forces IT groups to adjust quickly and to modernize their current practices. The teams at PCD Solutions and VMware have made it their mission to inform IT professionals in Quebec about the latest technologies and innovations. They do this by hosting TechnoLab Sessions to share concrete examples of projects that customers have carried out and by demonstrating the new possibilities that these solutions make possible.
As our participating members have quickly become our best ambassadors (see the feedback on our LinkedIn page), we are now inviting you to share the experience by attending our next session.

Next TechnoLab session
Topic: The Trend Towards VMware vSAN Converged Systems – A Shift to software-defined storage
Date: Thursday, November 29
Time: Part 1: 8:30 a.m. to 11:30 a.m. (presentation followed by lunch), Part 2: 12:00 p.m. to 2:00 p.m. (optional vSAN demo labs)
Place: CONTINUUM Innovation Centre, 5929 Transcanadienne O., Suite 150, Saint-Laurent, H4T 1Z6
Details: Approximately 20 spots available (free of charge)
Audience: The session is primarily tailored to the interests and questions of the people in charge of architecture, IT operations, and the VMware system administration involved in storage.
To register: continuum@pcdsolutions.com
The workshops we have lined up will cover:
The overall vision of the shift to the hybrid cloud/SDDC (Software-Defined Data Centre)
The Software-Defined Storage (SDS) trend that is currently transforming the industry
The advantages and/or limitations of the hyperconverged architecture approach
The notions and concepts introduced by vSAN and vVOL in terms of policy-based management and automation of storage services
The main issues addressed and observed solution use cases
The benefits of the vSAN solution for your business and operation group
Deployment options and best practices for the targeted uses

A logical follow-up to a series of successful sessions
Once again, we have assembled a panel of real experts in the field of storage management. This group of experts includes Mr. David Provencher from the VMware vSAN engineering team, Francois Rainville – cloud solutions architect, Marc De Grasse – SDDC solutions implementation consultant, and myself, Pierre Raymond – storage and converged solutions architect.
In short, all those on the panel are directly involved in VMware SDDC deployment projects including the vSAN solution. Our goal is to use this session to answer the many questions you may have, and to share with you our latest experiences in the field with our partners such as VMware, Cohesity, VEEAM, Amazon AWS, HPE, and Dell/EMC.

Agenda
8:30 a.m. – Welcoming address to participants
9:00 a.m. – Part 1, Opening Remarks
9:10 a.m. – Round Table
9:25 a.m. – About the VMware SDDC Approach
9:45 a.m. – Overview of the vSAN Solution, Pierre Raymond
10:05 a.m. – Coffee break
10:20 a.m. – Detailed technical examination of the vSAN/vVOL solution, its operation, and main use cases, Francois Rainville and Marc De Grasse
12:00 p.m. – Lunch
12:00 – Part 2, Intro to Our VMware SDDC Demo Labs
12:15 p.m. – vSan Hands-on Demo Lab, Marc De Grasse and David Provencher
3:40 p.m. – Closing Remarks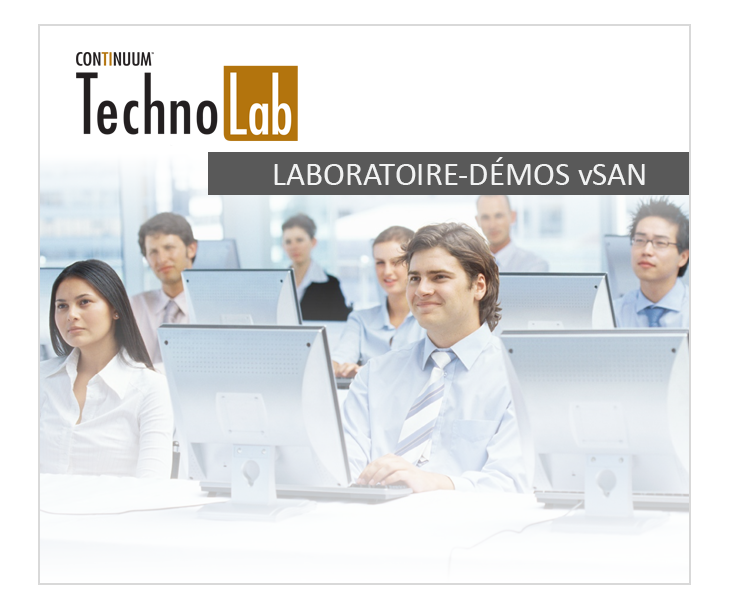 Added to the agenda is a full block focused on demonstrating the vSAN solution
Our goal is to repeat the success of previous sessions and to go deeper into the technical side. This way we will spend even more time with people who are interested in demonstrations and the vSAN Hands-on Lab exercises. Our specialists and instructors for this technical workshop will guide you and give you an opportunity to ask questions and immerse yourself in the solution so you can test its features.
To Register
Simply contact us at this address: continuum@pcdsolutions.com. Toll-free 1-866-393-1322
Thank you. We look forward to seeing you.
Pierre Raymond,
Solutions Architect
praymond@pcdsolutions.com






About the CONTINUUM™ Innovation Centre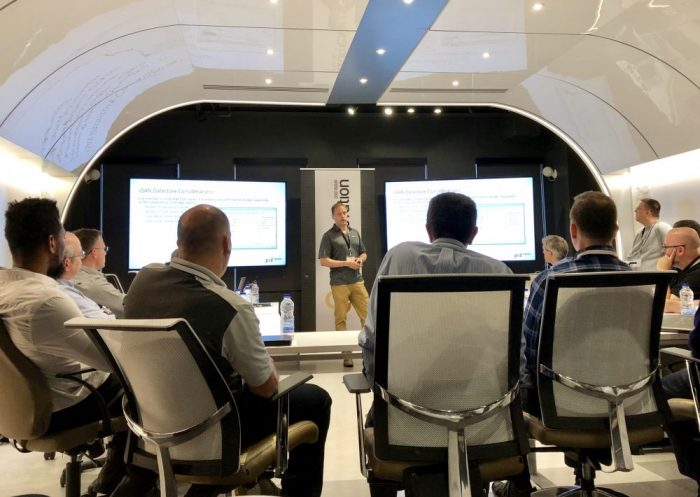 The CONTINUUM™ Innovation Centre – A First in Canada
One visit will convince you. Based here in Montréal, the Innovation Centre lets you compare and take stock of your IT practices in the context of transitioning to the hybrid cloud.
Centre dedicated to education and innovation in the field of enterprise cloud solutions
Brings together the top specialists in the industry
State-of-the-art technological infrastructure
Integration with leading public cloud providers
Ability to concretely demonstrate SDDC VMware Cloud Solutions (SDDC: Software Defined Data Centre operation)
Monitors market trends and the first major cloud projects in Quebec

Technolab Sessions—An Ultra-efficient Formula. A Worthwhile Way to Invest Your Time
TechnoLab Sessions focus on the deployment of the VMware Cloud/SDDC approach. They are designed to present, in a half-day format, high quality information that enables you to update your knowledge on various aspects of implementing a corporate cloud.
Group discussions, technical presentations, whiteboard exercises, demonstrations of real-time solutions, question periods—They are all carried out based on a highly dynamic and interactive formula to allow you to situate your company's current practices and help guide your approach.
Sessions are held in our new Innovation Centre, giving you the opportunity to see how a cloud and its components work, how it can integrate with public cloud providers, and the advantages of the more recent technologies on the market.