Make network and security services management agile and efficient
In this age of random disruptions and cyberattacks, there is an ever-increasing risk of interruption to your business's core activities due to a security breach. This is why IT leaders are constantly thinking about governance, risk prevention, and infrastructure security. Teams in the field must constantly and continuously monitor application of these measures, as well as the dynamics of perpetual change that make this challenge even greater.
At the next TechnoLab session, you will have an opportunity to discover how the VMware NSX solution literally transforms and simplifies management of network and security services through the Software-Defined Networking (SDN) approach. This management approach based on the concepts of virtualization, automation, and software-defined assistance opens the way to a series of new possibilities:
Standardization of processes
Automation of IT processes
Flexibility and speed of deployment of network and security services
Strengthening of security through microsegmentation
Network traffic optimization
Simplification of operations (e.g., multi-site management, recovery in case of disaster)
Security management in the hybrid cloud context
Details of the next session
Date: Thursday, September 27
Time: 8:30 a.m. to 12:30 p.m., (Optional NSX demo labs in the afternoon between 12:30 p.m. and 3:30 p.m.)
Place: CONTINUUM Innovation Centre – 5929 TransCanada Hwy West, Suite 150, Montréal, Saint-Laurent, H4T 1Z6
Audience:  The session is tailored to the interests and questions of people in charge of architecture, IT operations, VMware, and especially to teams involved with networks and security.
The workshops we have lined up will cover:
The overall vision of the hybrid cloud shift / software-defined data centre (SDDC)
The software-defined networking (SDN) trend that is currently transforming the industry
The notions and concepts introduced by VMware NSX with network virtualization and microsegmentation
The main issues with and specific cases for using the solution
The benefits of the NSX solution for your business and operation group
The ecosystem of the committed partners behind NSX
Deployment options and best practices
Included in the agenda is a full block focusing on demonstrating the NSX solution
We want to repeat the success of our previous sessions, but we also want to delve deeper into the technical side of things. So, we've adjusted the format of the upcoming TechnoLab sessions ever so slightly. The September 27 session will therefore introduce even more demonstrations and exercises such as the NSX Hands-on Lab.
Guided by our on-site specialists and instructors, this technical workshop will give you an opportunity to ask questions and immerse yourself in the solution to test its features. We want to help you better understand the operational benefits of software-defined network management, to understand how these new automated software security policy concepts operate, and finally, to see the microsegmentation component in action.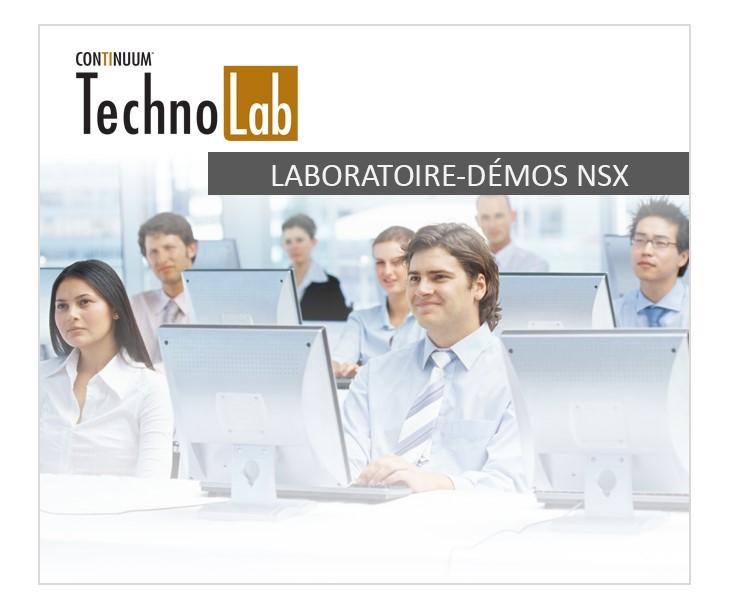 Agenda
8:30 AM        Welcoming address to participants
9:00 AM        Part 1, Opening Remarks
9:10 AM        Round Table
9:30 AM        About the VMware SDDC Approach
9:50 AM        Overview of the VMware NSX solution, presented by François Rainville
10:10 AM      Break
10:20 AM      VMware NSX – Security and Microsegmentation, presented
by Ghislain Guay
11:20 AM      Discussion & questions
11:30 AM      Lunch
12:00 PM      Part 2, Intro to Our NSX Demo Labs
12:10 PM      Lab 1 – Distributed Firewalling & Service Composer
12:50 PM      Lab2 – Intelligent Security Groups
13:30 PM      Lab3 – User-based Security (IDFW)
14:10 PM      Lab4 – Monitoring Tools (ARM & VRNI)
14:40 PM      Closing Remarks

Meet NSX technology experts
Among the on-site experts will be Ghislain Guay from VMware, who is part of the Quebec NSX engineering team, and Alberto Lucarelli, also from VMware. Solutions Architect François Rainville and myself will be there from PCD Solutions. In short, a range of experts who have been directly involved in VMware SDDC deployment projects including the NSX component will be in attendence.
CONTINUUM Innovation Centre
One visit will convince you. Based here in Montréal, the Innovation Centre lets you compare your company's situation and take stock of your IT practices in the context of transitioning to the hybrid cloud.
Come learn about what technology can bring to your business
Take the opportunity to talk to our on-site experts
Compare your current IT practices with those of other participants
See the solution in action and learn about its advantages
Come and find the tools and practical knowledge to support you through your process
To Register
Please contact us at this address: continuum@pcdsolutions.com, or call Leïla Wahassou at 1-866-393-1322.
Thank you. We look forward to seeing you.
Jean-François Santos
Consultant, VMware NSX
jfsantos@pcdsolutions.com