Next TechnoLab Session on May 24: Make the Move to VMware NSX—Security and Microsegmentation
Summary of the session's context and objectives—Companies are constantly exposed to new forms of cyber attacks. The frequency and impact of these attacks are on the rise. Such attacks have a direct effect on the companies' operations, reputation, and the relationship of trust they have with their clients. It has become imperative to review security management practices to take advantage of greater agility and efficiency.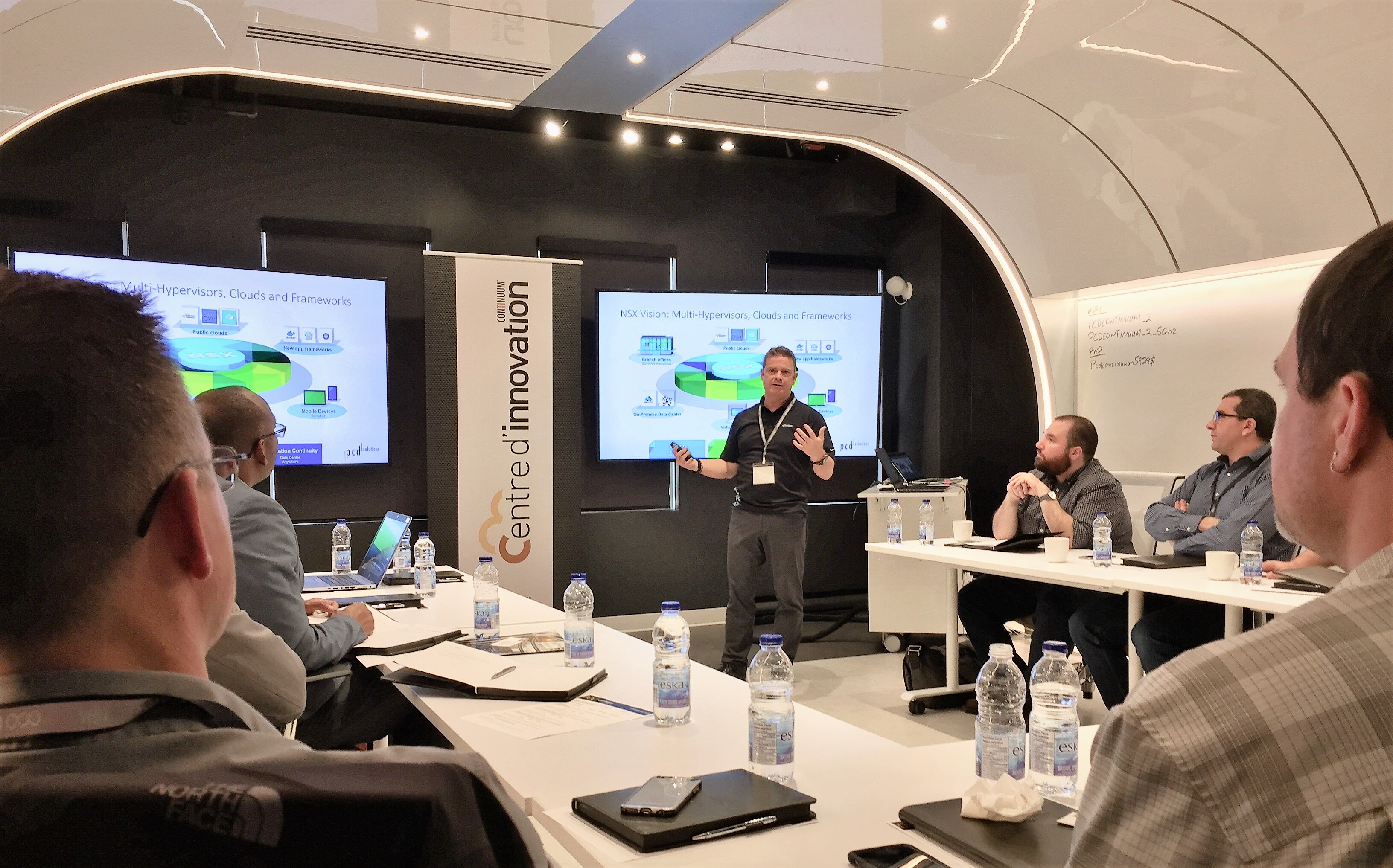 During the TechnoLab Session on May 24, we will explain how NSX offers a whole new approach to security management that is now "Software-Defined." We will see that, even beyond VMware's approach and technology platform, the transition is affecting the entire industry as it prepares for a significant shift to Software-Defined Networking.
The session is tailored to the interests and questions of the people in charge of architecture, IT operations, VMware, and the teams involved in company network and security management.
The workshop we have lined up will cover: 
The overall vision of the Hybrid Cloud shift / VMware SDDC Evolution Model (Software-Defined Data Centre)
The SDN (Software-Defined Networking) trend that is quickly transforming the industry
The notions and concepts introduced by VMware NSX with network virtualization and microsegmentation
The main issues addressed and specific use cases for the solution
The benefits of the NSX solution for your business and operation group
The ecosystem of committed partners behind NSX
Deployment options and best practices
Agenda
8:30 AM – Registration and Continental Breakfast
9:00 AM – Opening Remarks
9:10 AM – Round Table
9:20 AM – About the VMware SDDC Approach
9:40 AM – Overview of the NSX solution, Francois Rainville
10:20 AM – NSX: The Security Management and Microsegmentation Component, Ghislain Guay
11:10 AM – Whiteboard Workshop and Demonstration, Jean-Francois Santos
11:40 AM – Closing Remarks
12:00 – Lunch


Une suite tout simplement logique au succès des dernières sessions
Given that this session will focus on NSX and the Security and Microsegmentation component, we have assembled a panel of technical experts in the field.
This group of experts includes Ghislain Guay from VMware's engineering team, Francois Rainville, cloud solutions specialist at PCD, and Jean-François Santos, NSX technical integration expert. All these people are directly involved in VMware SDDC deployment projects including the NSX component. Our goal is to use this session to answer the many questions you may have, and to share with you our latest experience in the field. As sponsoring partners, VMware, HPE Aruba and Hitachi Vantara representatives will be present to answer your questions around the integration of NSX and their own solutions.
TechnoLab Sessions—An Ultra-efficient Formula. A Worthwhile Way to Invest Your Time
TechnoLab Sessions focus on the deployment of the VMware Cloud/SDDC approach. These half-day sessions are designed to present high-quality information, enabling you to update your knowledge on various aspects of implementing an Enterprise Cloud. The TechnoLab sessions presented to date have focused on vSAN and NSX solution demonstrations. We will soon have sessions on the vRealize suite and Next-generation Back-up & DR.
Group discussions, technical presentations, whiteboard exercises, question periods—every effort is made with a highly dynamic and interactive formula to allow you to situate your company's current practices and help guide your approach in the future. TechnoLab sessions are held in our new Innovation Centre, giving you the opportunity to see how a cloud and its components work, how it can integrate with public cloud providers, and the advantages of the most recent technologies on the market.
CONTINUUM Innovation Centre
One visit will convince you. Based here in Montréal, the Innovation Centre lets you compare your company's situation and take stock of your IT practices in the context of transitioning to the hybrid cloud.
Attend this TechnoLab session and discover the possibilities that virtualization and automation technologies can bring to your business
Take advantage of the opportunity to talk to industry experts
Compare your current IT practices with those of other participants
See the solution in action and learn about its advantages
Come and find the tools and practical knowledge to support you through your process
To Register
Due to the special format of these events, we encourage you to contact us quickly to see if it is possible for you to join the group. You can contact us at this address: continuum@pcdsolutions.com. If this session is full we will take your pre-registration for the next one.
Please send me any questions or other requests you might have.
Marc De Grasse
mdegrasse@pcdsolutions.com
Consultant, Virtualization and Cloud