Accelerate the transformation, overcome the obstacles…
The public Cloud introduces a brand new approach to IT service consumption within companies. For many, it represents the shift to a more modern service delivery, while indirectly leading to new user expectations. The increasing need for agility, speed and "on-demand" access to services is creating enormous pressure to modernize IT infrastructure and processes as a whole
However, many factors can hinder the transition to the public Cloud:
Coexistence of multiple generations of applications
Need for a reinforced security management framework
Latency of certain connected services; dependence on communication links
Lack of expertise on new platforms
Complexity and cost of modernizing applications
Awareness of the actual costs of the Cloud
In 2020, it was estimated that 90% of companies in Canada were following a hybrid approach and will continue to do so for a number of years. Hence the importance of choosing a Cloud Management Platform (CMP) that is adapted to your company's needs and reality.
Have you heard of VMware Cloud Foundation?
VMware Cloud Foundation (VCF) is a hybrid Cloud management platform we have used in dozens of projects. While the first deployments were mostly in large companies and public-sector organizations, it was clear that in the last 3 years, medium-size businesses began to take an interest in modernizing their operations.
For example:
Creating private Cloud environments
Virtualizing and sharing resources between multiple departments
Automating certain internal IT services
Managing development environments
Operating and monitoring services hosted on the public Cloud
Extending datacentres or backups to the public Cloud
Over the last five years, we have seen VMware's seriousness and commitment through our experience with their products, from VMware Cloud to native Cloud services integration. VCF's robustness, maturity, functionalities and scalability truly make it an enterprise-level platform superior to those of its closest competitors.
How does it work?
The VCF platform's main objective is to provide tools to manage various IT services. These tools can be based on virtual machine (VM) technology or containers, which are now used to create next-generation applications and integrate with a microservice architecture. In a multi-site and hybrid vision, VCF allows you to manage applications and IT services hosted internally as well as those stored in the public Cloud. The software-defined management approach aims to standardize, simplify and automate operations. As a result, it attributes operating principles, levels of service and a security management framework that will follow each service wherever they are operated, using software rules and policies.
VMware Cloud Foundation is a complete platform that lets you put in place each key component of managing an enterprise Cloud environment. It has a unique architecture that is easy to deploy and, most importantly, is based on simple principles that make VMware technologies so successful, especially since your internal IT team has often already mastered tools such as vSphere, vSAN, etc. VCF is frequently seen as the next logical step in transforming and shifting your environment to the hybrid Cloud era.
Once deployed, VCF provides your various teams with a complete service portal. Depending on your company's situation, VCF gives users self-serve access to your resources and services. It allows you to activate new items using automated scripts and to control consumption by managing cost redistribution, recreating (internally) the experience of using a public Cloud.
VMware Cloud Foundation helps you automate infrastructure and operations management, and reinforce security on both private and public Clouds.
Here are a few examples of how the VCF platform can help optimize your internal IT services:
Enterprise-wide deployment of virtualization technologies
Software-defined management of resources and services (analysis, planning, monitoring, auto-correction, self-balancing)
Process standardization and operations automation
Improved security posture and control measures
Ability to free up IT resources for innovation and high-benefit projects
Additionally, managing services hosted by external Cloud providers has the following advantages:
View the public Cloud as an extension of your environment
Accelerate migration of services that are ready for the public Cloud
Provide access to native Cloud services, innovations and microservices
Control Cloud costs and consumption
Manage operations in a multi-site or multi-Cloud mode
Managing the hybrid Cloud with VMware


User services portal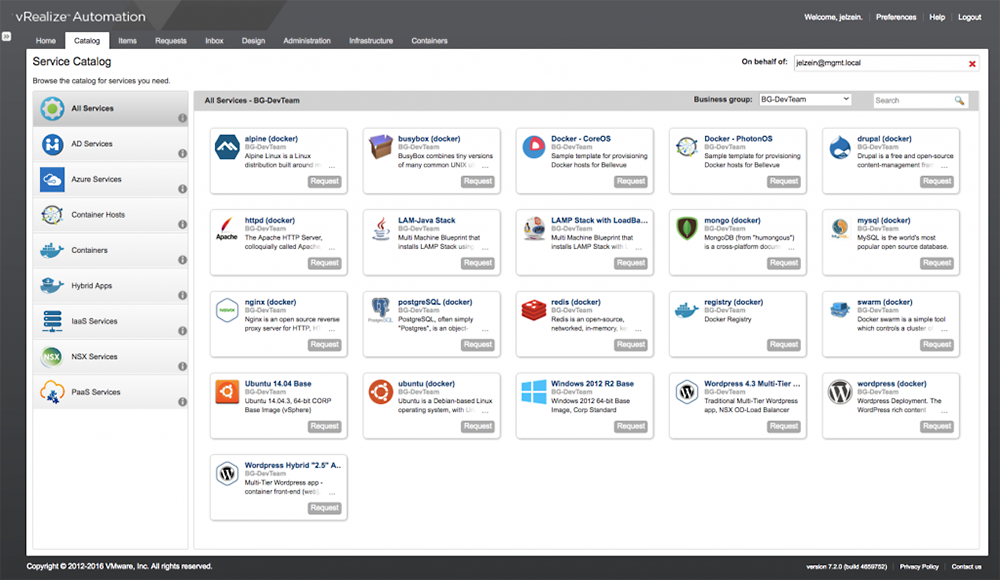 Option to build your own VMware Cloud on Azure or AWS
The fact that all the "Hyperscalers" in the public Cloud industry (including Microsoft Azure, AWS, Google GPC, IBM Cloud and Oracle) have adopted the VMware Cloud platform shows its popularity in the market. VMware Cloud acts as somewhat of a gateway technology between existing datacentres and load migration to the public Cloud. It also greatly simplifies this transition by allowing IT teams to operate their services on the public Cloud of their choice using the same tools and interfaces they already know well.
There is currently a significant number of projects that are founded on VMware and Microsoft joint offerings (Azure VMware Solutions) and Amazon (VMware Cloud on AWS), two flat-rate options that aim to help clients easily get started using the public Cloud with an activation and implementation strategy spanning only a few days.
How can PCD Solutions help you?
All of these new solutions naturally present more choices, which need to be evaluated and, sometimes, require a more formal review to accurately define your needs and guide you toward the most appropriate solution. Having been involved in many Cloud projects using VMware, Microsoft Azure, AWS and partner products, PCD Solutions can help you accelerate your project.
Questions?
Please don't hesitate to contact us. It would be our pleasure to assist you.
François Rainville
Solution Architect
Cell. 514-235-7574
Email: frainville@pcdsolutions.com