Security management, now a significant part of IT operations 
A significant part of IT teams' tasks is now dedicated to protecting users, their applications and their data. The complexity of many parallel security platforms and tools, implemented in isolation with very little integration or automation, must be managed daily. To ensure effective protection of critical data, organizations need security measures and controls that are intrinsically integrated with their infrastructure. Security must therefore protect all access points, at all times, and simplify operations management throughout the different teams involved. That's where the VMware Carbon Black Endpoint Security Cloud solution stands out.
VMware has managed to bring together all the elements of protection needed within a single platform, a single management console, a single agent deployed to access points. To reduce complexity and help IT operations and security teams, Carbon Black offers an overview of your company's current situation and security posture thanks to its fully integrated Cloud-native platform. The solution is deployed locally at your facilities, but is always connected to its monitoring centre hosted directly on the Cloud.
Vision behind the Carbon Black Endpoint Security Cloud solution design
A SaaS mode solution, directly connected to the VMware Carbon Black monitoring centre
This platform is directly connected to the Cloud with the capability to analyze, in real time, several million incidents and threats that are collected each day from around the world. Carbon Black Endpoint Security Cloud therefore helps you identify, prevent, detect and address risks before they affect your environment. The solution uses a multi-layer protection approach to not only proactively identify risks and vulnerabilities, alert you and prioritize what actions to take, but also to automatically correct the situation when faced with these attacks based on security policies established in the software layer. 
Platform overview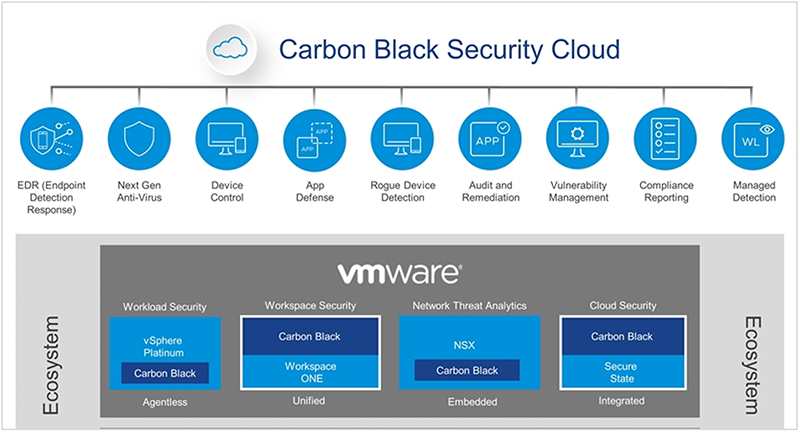 Administrator interface example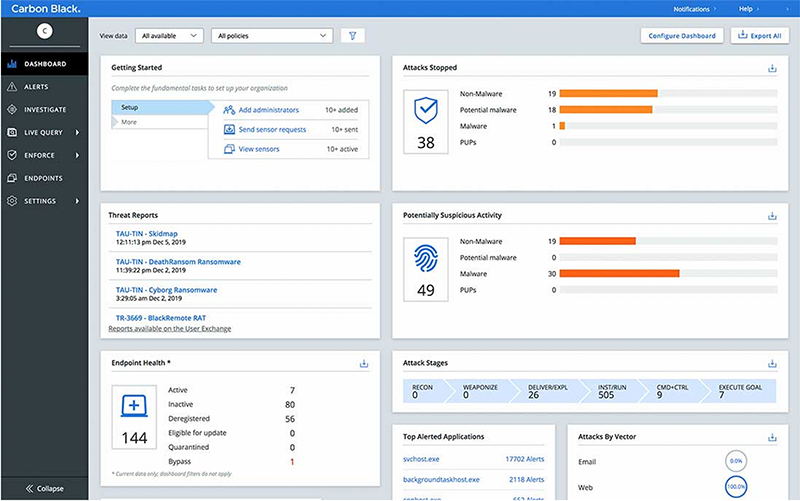 The Carbon Black solution protects workstations and access points, applications, container environments, as well as virtual and physical technologies, thus ensuring a global protection approach. With the aim of automating your security operations management, the solution consolidates a whole range of processes and functionalities. One of the best examples is companies' current fight against ransomware attacks where VMware brings the expertise of its global incident management centre and intelligent machine learning technologies to proactively analyze your company's situation in real time.
Continued VMware investments in its security solution portfolio 
Carbon Black literally builds upon the global security vision that VMware is working to advance for its clients. The Carbon Black solution complements its portfolio, which is now made up of Workspace One (access control), NSX (network security and microsegmentation), AppDefense (application security) and Carbon Black (environment and access point protection).
Carbon Black also offers integration possibilities through APIs with numerous existing security solutions that you may already use and wish to integrate. The result is an integrated solution that returns full control to your team, allowing you to be proactive and, especially, to be a step ahead of threats and attacks currently affecting the market.
Global vision of VMware's security solution portfolio.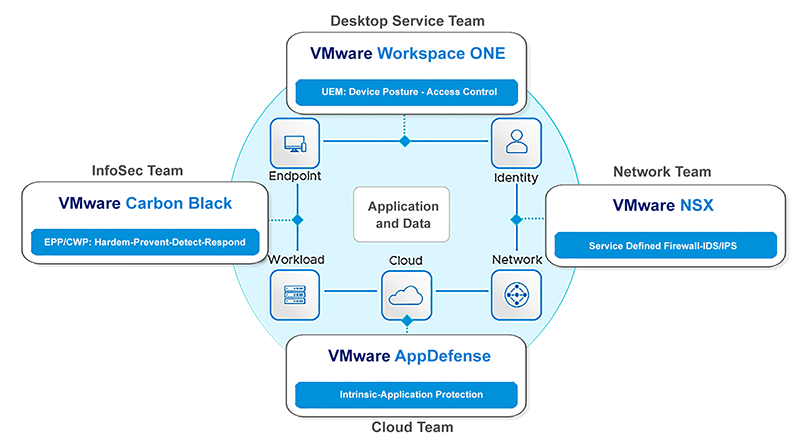 The VMware Carbon Black solution presented here is generally part of deploying a global security strategy called Zero Trust Security, which is modular and allows companies to have maximum control and visibility of their security posture. To better understand the principles of deploying the Zero Trust approach, I invite you to read this study recently published by Forrester Research (PDF) on the topic.
Please complete form to access Forrester Research study  



Need help?
Converge and our team in Canada can help and support you in reviewing your situation or completing your project. Feel free to contact us to discuss your objectives or ask questions.
Darren Livingston
VP of Engineering
Converge Technology Solutions Corp.