What is your organization's starting point
Everyone can agree that both the private and public sectors are accelerating their migration to the public Cloud. The majority of organizations are now at the point of determining their needs, assessing the benefits and identifying opportunities to migrate some workloads to the Cloud to leverage greater agility. In the case of the Government of Quebec and its departments, public organizations have been ordered to quickly review their situation and develop a transition plan. By 2025, it is expected that they will be operate mostly on the Public Cloud and hyperscalers infrastrucrues in order to be more efficient, productive, connected and to generate cost savings. 
The reality in the field is more complex. Most organizations are dealing with aging infrastructures and networks. They are already challenged with security and application modernization. The Cloud transition goes well beyond technology and requires that each organization change its ways of doing things. It affects people, processes, operating practices, knowledge, and the entire financial and budget model that have existed for years. Nevertheless, there appears to be a desire for change in the field, and dynamic new leaders are working on this important transformation journey.
Whatever an organization's motivations for shifting to the Cloud, they must develop their plans, budgets and actions. Several companies we have met did not have their project foundations in place. However, their motivation, objectives and vision were clear. We worked with their teams to set consensus on a common direction and set priorities. We adressed security concerrns and set governance principles. We developped a phased approach to their plan and worked on the definition of their own Cloud architecture. Finally, we presented multiple technology options and Cloud management platforms to select the best fit with the organization needs and culture. To see the conference video click here. (french version only)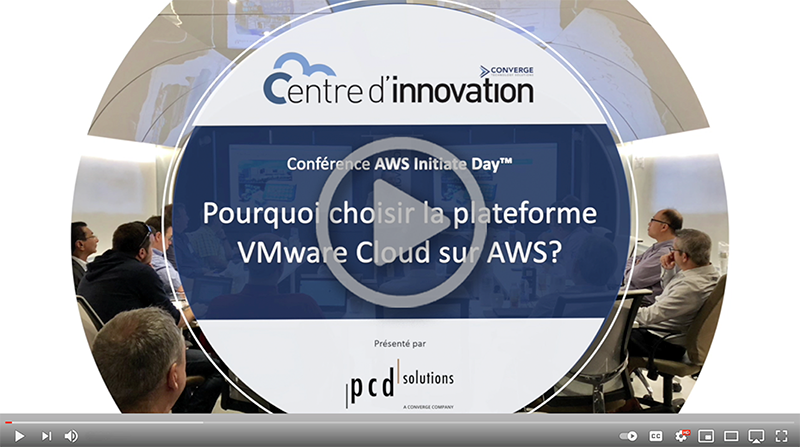 2025 timeline: no time to assess ten different solutions
We believe that, in today's environment and with such a tight timeline, the Government of Quebec does not have the luxury to assess ten different solutions. It has to have a clear, simple and sound direction and response. It needs a stable solution, widely used in the industry, that allows it to standardize practices within most of its organizations. 
That's why we believe that the VMware Cloud on AWS platform is the best software solution to migrate public organizations to the Public Cloud, or to integrate their environments in an hybrid Cloud context. Widely deployed in both the private and public sectors, VMware Cloud is the operational standard for a large number of datacentres worldwide. The fact that most IT teams already mastered the majority of VMware tools and management consoles is one of its greatest advantages. Industry specialists recognize the value, agility and efficiency gained, thanks to VMware virtualization. It presents the opportunity to shift to the Cloud, to IT automation and to software-defined service management. Several market factors indicate that VMware Cloud on AWS is the next logical step toward facilitating and accelerating organizations' transition to the Cloud, leveraging the same tools and knowledge, while reducing the risks associated with migration. 
VMware Cloud on AWS platform advantages:
No conversion required because VMware is the source and the target. Significantly reduced risk and migration time with no surprises or business interruptions.
Realistic learning curve. Familiarity of your team with the VMware platform. Build on existing knowledge, particularly useful due to current labour shortages.
Solid VMware/AWS partnership. Established partnership for over three years. Joint investments in developing functionalities and integrations. 
Service maturity in the Cloud industry. Supported by a complete ecosystem of VMware and AWS integration partners in Canada, including PCD Solutions. 
Availability of local expertise in Quebec. Ability to obtain advice and support locally, in English or French, from PCD, VMware and AWS.
Reference architectures. Many shared resources and best practices to help you launch properly and get the most out of the VMC platform and native services. 
To better understand the VMware Cloud platform advantages, watch the video – click here (Only in french).
 VMware Cloud solution's ability to reduce the time, cost and risk curve during Cloud migration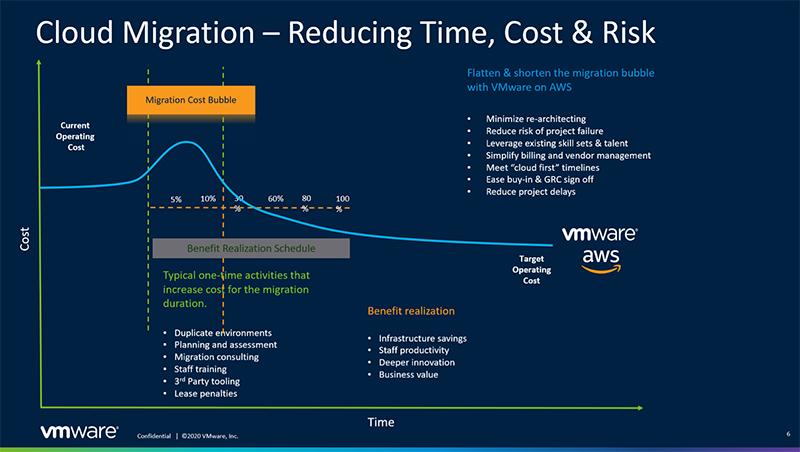 Various possible public Cloud migration approaches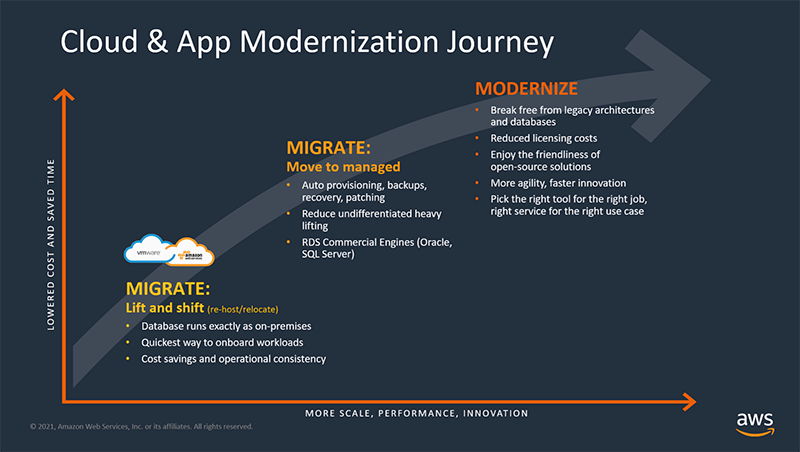 Transition from a CAPEX to OPEX model
For many decades, public organizations have gotten used to operating within strict budget standards for infrastructure replacement, IT operations, special projects, etc. The public Cloud transition involves an important financial transformation, a factor that seems to motivate projects within some organizations and slow others. 
The cost assessment and comparison exercise between a traditional IT solution and a Cloud-based option is often the first very revealing step. On the one hand, companies are surprised (positively or negatively) by the monthly Cloud services costs. On the other hand, organizations are forced to analyze their own internal costs and become aware of costs that have often never been assessed.
Through solution analyses or what we now call "Cloud Discovery Workshops," we regularly perform this type of financial assessment and comparison exercise to help companies build their project justification and plans on more realistic and concrete foundations. We can then focus our efforts on the organization's real priorities.

Cloud model business advantages:
Cost transformation and modulation 
Scalability based on demand and pay-per-use
Savings on infrastructure expenses 
Ability to access new services with no initial investment
Productivity gains through automation 
Reallocation of a portion of IT labour 
Increased capacity for innovation during changes
To learn more about VMware Cloud platform business advantages, click here (Only in french).
Thank you to our partners
This conference was made possible thanks to the participation of our partners and sponsors.
Watch the video



Need help?
The shift to the Cloud involves many choices and possible solutions. PCD Solutions / Converge can support you and share its vast consulting and technical experience in integrating its partners' solutions. Please do not hesitate to contact us to discuss your objectives and Cloud transition plans.

Mathieu Bouffard
Cloud Solution Architect
PCD Solutions, a Converge company
_____________