The hybrid reality of the cloud is rapidly transforming the role of IT teams
With the growing need for information technology, the bar is always higher for IT leaders who are trying to deliver faster, more efficient and more agile service. Companies are being confronted with the new realities of the public cloud, which is used on a daily basis by almost all employees. Access to a world of applications and services all connected through cloud computing and the App Store concept, applied both to smart phones and personal tablets, has completely transformed users' expectations.
Faced with new challenges
Everything is faster, much faster than organizations' ability to adapt.
There are both more changes and more demands for change.
Users are actively using public cloud services, independent of IT control.
IT departments have to adapt to this new reality and change their internal operating practices by adopting new tools that allow them to offer this same level of agility and speed.
It is obvious that many "legacy" applications and systems will not find their way into the era of the cloud and mobility; significant investment will be required.
Developer groups want to create their applications directly in the cloud, but are confronted with issues regarding security, performance, adaptability and constraints when integrating with internal networks.
Many fears persist regarding the use of the public cloud in business, without the prior definition of policies and a strict governance framework.
In short, there is a need to establish an overall strategy to integrate the delivery of services from an internal cloud to those from public clouds authorized by the company.<\li>
A number of local companies are already using the cloud
Services like Office 365, Exchange, SharePoint, Link, and Dropbox are good examples of and candidates for using cloud-based, software as a service (SaaS) applications. We are also seeing many companies evaluate their options when faced with the need to modernize their applications (e.g., ERP, CRM, management software and other specialized apps). Many software developers, including SAP, Oracle, Microsoft and IBM, are already suggesting to their clients that they make the transition to their new, completely online service platforms.
Some companies are instead using the cloud to host servers, websites and virtual machines (VMs) and back up their data to the cloud, and other services called infrastructure as a service (IaaS). Developer communities are using the cloud based on the platform as a service (PaaS) principle in order to accelerate their various projects and efforts in software development.
In general, the companies surveyed report that they are fairly satisfied with these new forms of service, but still raise some warnings.
Advantages
Disadvantages

Fast, agile deployment
Software updates included
No maintenance required
Self-service access
Predictable costs
Recognition as operating expenses

High costs, need for strict monitoring of billing
Lack of flexibility
Poor control over security
Actual location of data/services often unknown
Difficulty recovering data (locked-in effect )
The solution? Move toward a hybrid cloud approach
Most companies are currently at the reflection stage, defining their needs, position, and strategy regarding the cloud. Some more advanced groups are reviewing the structure of their teams as well as internal IT roles to implement a hybrid "by service" management approach. Since the cloud is based on virtualization and IT process automation technologies, many of these companies are currently standardizing their ways of doing business by documenting the management of each of their services and by equipping themselves with powerful orchestration tools such as the ones VMware offers with its vRealize suite.
This enterprise cloud approach makes it possible to offer the same types of services internally with the same level of agility as those offered by public cloud providers. By developing a standardized service offer in the form of an enterprise application catalog, the services of external cloud providers can also be integrated through application program interfaces (APIs) and the best of both worlds can be enjoyed while satisfying a maximum number of users.
How can your company start to prepare itself right now?
By investing in understanding the current shift to software-assisted data centre management (e.g., VMware SDDC model)
By appointing a leader or team responsible for defining your company's vision
By deploying virtualization (at the server, storage and network level) to create a global pool of enterprise resources
By establishing technology standards and architectural choices for building the physical infrastructure that will serve as a foundation for the project
By reviewing your network infrastructure to upgrade it and by applying the same software management principles to it
By standardizing and automating IT service deployment processes
By choosing management, orchestration and automation tools that best reflect your team's philosophy and skills profile
By partnering with an experienced business partner who can guide you through every stage of your project
Education YouTube Videos
We have just posted this video interview that summarizes in a few minutes the cloud approach offered by PCD Solutions and VMware with the Software-Defined DataCentre (SDDC) approach.
Video of Interview
1st part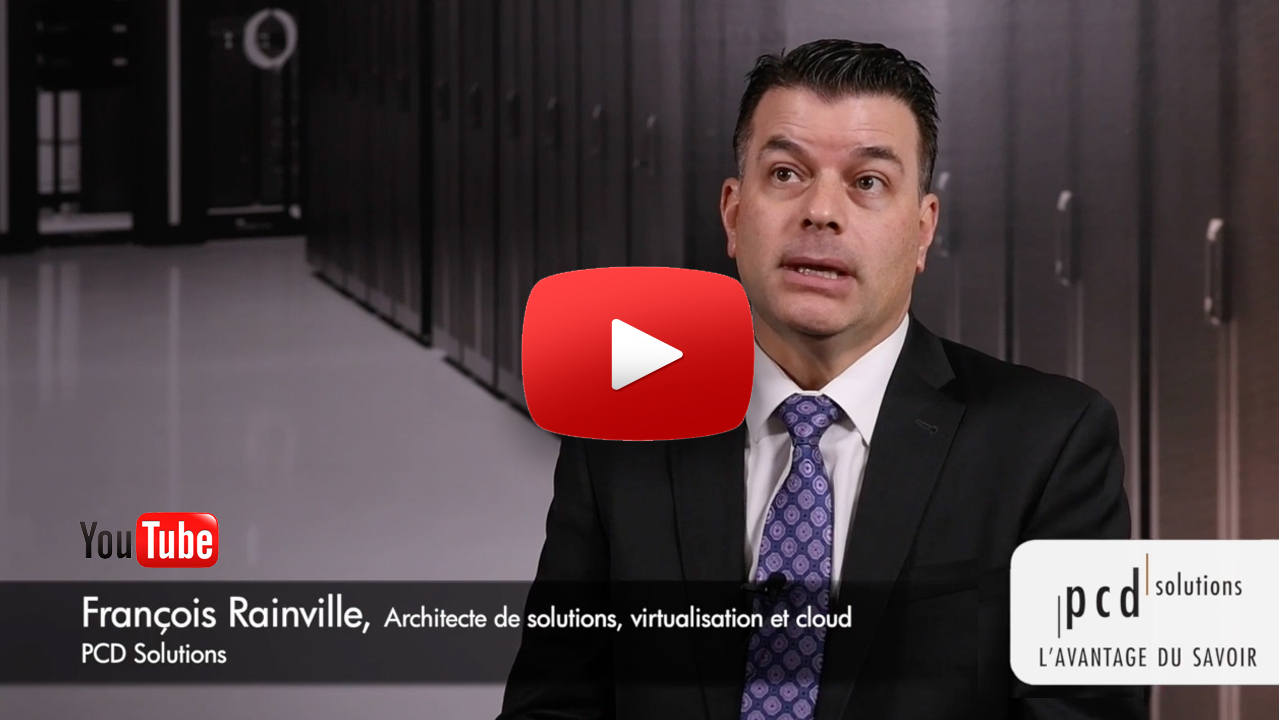 Click here to watch the video (French only)
2nd part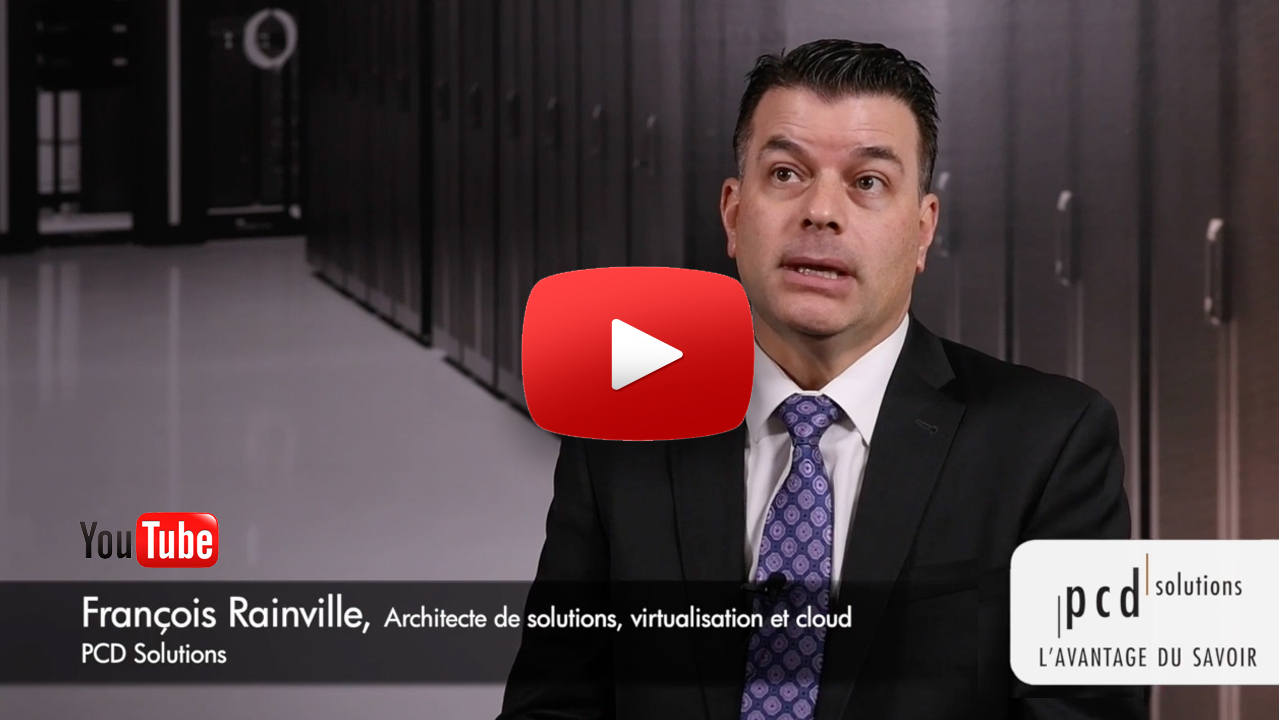 Click here to watch the video (French only)
For more information
Please contact us to learn more about virtualization and enterprise cloud implementation solutions. Feel free to send me any questions or comments you might have.
M. François Rainville,
Solution Architect – Virtualization and Cloud Computing
PCD Solutions
Courriel : frainville@pcdsolutions.com