VMware NSX – Moving Towards the Hybrid Cloud
Among other things, Mr. Corn explained:
"What's happening from a network management point of view (namely the move towards a software approach) is just as significant as the transformation and advances we've made through the deployment of server virtualization technologies. Network virtualization will be the real foundation for IT automation and business integration with the cloud. It will allow for hybrid, controlled, and secure application management as well as data exchange with various suppliers involved in the cloud."
YouTube Video
You can learn more about the advantages of VMware's NSX solution in the following videos. Take a few minutes to learn about this solution and feel free to contact us for more information.
Videos of the interview
Part One – French version only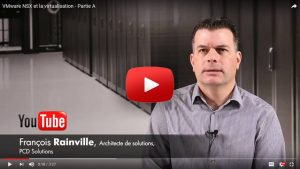 Click here to watch the video.
Part Two – French version only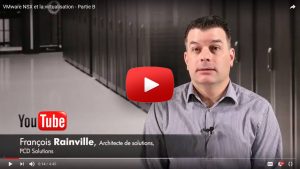 Click here to watch the video.
NSX: The Advantage of Using Software Policies to Manage Network Services and Security
Among other things, NSX makes it possible to create complete virtual networks and use software to manage them. This in turn allows virtual networks to be integrated into the infrastructure virtualization layer of your data centre (hypervisor), a layer that is very often standardized with VMware vSphere technology.
This is how NSX manages to completely dissociate network and security services management from the physical hardware layer. It also enables these network functions and services to be integrated according to "management policies," just as is done today with virtual machines (VMs). The revolutionary nature of this process stems from the fact that the management settings and security rules established in this governance of your internal systems can be automatically extended and applied when these services or applications are moved to an external site, to a partner, or even to the cloud. These software principles will contribute significantly to standardizing and automating the deployment of enterprise services in the context of the hybrid cloud.
NSX raises functionalities that were formerly managed through physical network equipment (routing, firewall, load balancing, intrusion detection, traffic prioritization, etc.) to the virtual level. Moreover, key players in the industry are already offering compatible (NSX Ready) versions of their products. Therefore, your company can:
Manage its various network services in a simpler, more agile way
Accelerate deployment of new services
Directly contribute to the standardization of its security standards and practices
Automate many functions previously configured manually and therefore likely to be forgotten or erroneous
Using Micro-segmentation to Increase Corporate Security
Data protection is one of the main concerns of IT and networking groups. As we are confronted with numerous new forms of attack, ever more insidious and frequent, it has become essential to thoroughly review corporate security management practices.
This is the time for micro-segmentation, an entirely new approach to protection now made possible with the VMware NSX virtualization platform. Micro-segmentation makes it possible to 'graft' specific features and security rules to each virtual machine, in a granular manner. As these components are separate, the possibility of contamination between services is limited. Micro-segmentation is managed directly on the virtualization platform and the rules are integrated into the network hypervisor.
Three Specific Reasons to Use NSX Technology
A – To protect companies against new forms of cyber-attacks and ransomware
Some clients set up NSX specifically to take advantage of micro-segmentation. It enables you to respond quickly to new threats, to protect your company and its most critical data systems, or to correct a possible flaw when faced with industry demands regarding security and compliance. In short, it enables you to control risks and possible impacts on the company's operations and reputation.
Micro-segmentation enables companies to apply adapted, granular security measures. They can precisely target certain applications, which are accessible to specific people, even to a specific context.
B – To simplify the implementation of disaster recovery solutions and the management of multi-site environments
NSX makes it easy to connect your various sites by creating a single, virtually expanded site. This simplifies and automates network services management in the context of multiple or distributed sites. The simplification of IP address management makes it easier for companies to implement and update the various mechanisms used, especially with respect to disaster recovery.
These same software-defined network management principles can just as easily be applied to a cloud-based recovery strategy. Therefore, companies can extend the network between their private data centres and a public cloud provider by taking advantage of fully transparent management using NSX.
C – To modernize network infrastructures by evaluating possible new standards
Many organizations are faced with the fact that their network equipment is obsolete and that they need to modernize their installations. Replacing network equipment is often very costly and raises questions regarding the new possibilities of the software-defined approach.
NSX is a key foundation element in enterprise cloud implementation and fits seamlessly into your existing IT environment.
Not only does NSX facilitate network and security management, but its setup requires only minimal standard elements and equipment.
NSX has currently been adopted as the standard for many Cloud industry players, including Amazon Web Services.
In Conclusion
To be able to fully understand the benefits of the NSX solution for your business, PCD Solutions invites you to come explore NSX through a personalized presentation and demonstrations in its brand new CONTINUUMTM Innovation Center, based in Montréal.
Please contact us if you have any questions.
Marc De Grasse,
Consultant
PCD Solutions
Courriel : mdegrasse@pcdsolutions.com