Why should you consider IBM's 10th generation Power Systems 
Even now, nearly 80% of companies with the highest revenues in North America operate their critical systems and applications on the IBM Power platform. A choice that is often based on performance, stability and scalability. This is also why IBM continues to actively and successfully defend the very enviable position of its technologies in the "Enterprise" market.
Faced with COVID challenges and realities in 2020, few companies have had the time to thoroughly analyze the benefits of moving to the new generation of IBM Power 10 solutions. The performance improvements of the new processors in itself should justify a comparison exercise. Moving to the IBM Power10th generation is a modernization path that we view as beneficial for many of our clients
For example:
If you are actively trying to improve datacentre security, performance and efficiency
If you plan to consolidate your AIX, IBM-i and Linux workloads on a single infrastructure
If your business is investing in powerful analytical tools, ML and AI projects
If you plan to integrate or migrate some of your workloads to  the Public Cloud.
Since launching this 10th generation, IBM registered over a hundred patents and innovations that drive itself even further ahead. These innovations extend to several niches, including energy efficiency, processing performance in analytics and BI contexts, graphical calculation, "in memory" DB processing, etc. It has also made considerable progress in terms of cluster scalability with the concept of "memory inception", which allows multiple IBM Power systems (local and/or virtual in the Cloud) to share memory in order to work together to process the same task. Additionally, in terms of AI integration within IBM processor technologies, performance can be increased by up to 20 times compared to previous Power system generations. Lastly, in the field of security, powerful data encryption technologies help companies protect themselves against the latest forms of attacks.
Watch the launch video for the IBM Power 10 platform https://youtu.be/btbeXx6xXBU
Link to the IBM Power 10 information site Power Systems Servers | IBM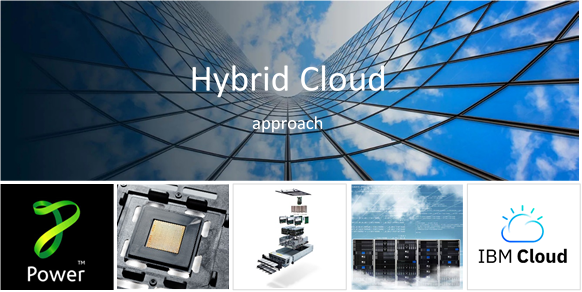 Despite its downsides, the pandemic has forced us to evolve and adapt to new ways of doing things. The most innovative and progress-driven companies are no longer even asking themselves whether telework will continue, but rather how the technological transition will occur in the longer term. Which technologies and applications will become the new standards of tomorrow? Which innovations will allow us to take user experience and work productivity even further?
Moving to the hybrid mode 
For companies at the hybrid Cloud architecture implementation stage, IBM Power products offer many advantages:
• Power On Demand – A simplified access model with more capacity and dynamic performance, right when your company needs it most (e.g. Dynamic activation, Capacity On Demand, Pay for use pricing).
• IBM Power Systems Virtual Server – A simple way to connect to the Cloud and extend your datacentre environment to the public Cloud (e.g. IaaS infrastructure services, development and test environments, disaster recovery site, temporary system resources or bursting, access to IBM AI solutions).
• IBM Power and Ansible automation tools – A complete line of tools to automate and efficiently manage your environment in a hybrid reality. With Ansible for IBM Power, automation is achieved through the AIX, IBM i and Linux® platforms as well as IBM Cloud infrastructure solutions in private and public mode (e.g. provisioning, system configuration management, deploying virtual machines, creating networks, allocating storage volumes, application deployment, orchestration, continuous delivery, security automation).
The ability to build your own Cloud environment based on IBM PowerVC and IBM Cloud
IBM PowerVC (Virtualization & Cloud Management) is becoming IBM's main solution for managing Power Systems infrastructure services as IaaS services. Based on Openstack, it uses advanced virtualization principles of IBM Power products in addition to leveraging powerful software functionalities and technologies for Cloud management and IT service automation.
A multi-Cloud environment can be built on the IBM Power platform thanks to the IBM PowerVC solution in local mode, or online at Cloud.IBM.com, for a solution that leverages public Cloud resources and business model. The IBM Cloud Pak for Multi-Cloud management solution is also used to facilitate integration, migration and management in such a hybrid operation.
Today, workloads operated under IBM AIX and IBM i are both compatible with the public Cloud in the same way that these environments are currently operated on the IBM PowerVM platform within your own datacentre.
The four main use cases of a Hybrid Cloud approach most commonly seen on the market are:
• Application modernization projects
• Rapid deployment of Dev & Test environments 
• Disaster recovery sites
• Enterprise backups on Cloud
Once connected to IBM Cloud, client environments can use the Cloud's direct connection principle to access the different services it offers (e.g. IaaS utilities, e-commerce services and payment solutions, advanced AI solutions, Blockchain, collaboration). That's one of the important advantages allowing your company to accelerate its innovation and digital transformation strategy, and especially, project delivery.
Companies can easily connect, exchange and transfer applications, data and services to the Cloud. Naturally, it's equally important to be able to retrieve data seamlessly in case of a change in strategy or supplier. In this regard, IBM offers several import/export functions directly integrated in the IBM PowerVC platform. When migrating complete environments or moving large volumes of data, the IBM Mass Data Migration tool is used.
Next step

No matter at what stage your team finds itself, the members of our services team can help, starting with asking the right questions and guiding you one step at a time in assessing the best deployment approach to benefit from IBM's Power 10th generation solutions or the Power System on Cloud program.
Questions
Feel free to send us your questions or comments. We look forward to discussing possible solutions with you.
Gaëlle Tandol,
Expert Advisor, IBM Power products
PCD Solutions, a Converge company
gtandol@pcdsolutions.com