What is the Innovation Forum?
This initiative is already bringing together decision makers and IT executives from several of the largest companies in Quebec. Each forum includes presentations from experts, industry analysts, and invited business leaders. Each of team share their own perspective and experience of Hybrid Cloud deployment projects.
The Forum allows you to stay abreast of the latest trends, innovations, and technological advancements while benefiting from discussions and networking with other participants so you can compare your business practices.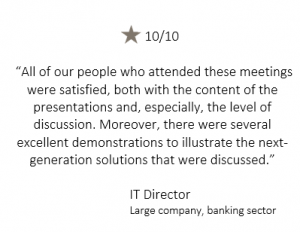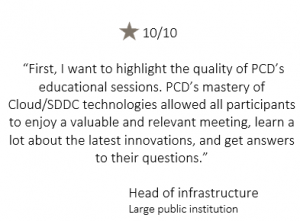 Theme of the October 17 Forum:  The New Hybrid Cloud Reality
If your company is thinking about its options, between transferring data, apps and/or services to the public Cloud or building its own Cloud infrastructure, this event is for you.
Building on a hybrid Cloud strategy has been a critical success factor for many industry leaders going through their digital transformation. It has become an unavoidable issue for every organization that wants to preserve its competitiveness in the years to come. More than a simple buzz word, Digital Transformation is a true corporate philosophy and it forces IT services to be more agile than its ever been. Hybrid Cloud is about innovation, technology, process automation and the evolving role of IT. Beyond the technology, it enables the redesign of corporations' practices, operations and core activities.
What strategy will be best for your business?
What role will your IT team play in the digital transformation efforts of your company?
What are the key success factors of companies that innovate, stand out, and radically transform their industry?
How to build  your own IT infrastructure using "Software-Defined" principles to get the benefits of the Cloud?
How does this IT foundation integrate with major Cloud providers like Amazon (AWS), Google, IBM Cloud, and Microsoft Azure?
How can you establish governance and control data security in this new hybrid Cloud reality?

Session Details:
Date: Wednesday, October 17
Time: 8h30 –12h30
Place: CONTINUUM Innovation Centre
5929 Transcanadienne O., Suite 150, Montréal (Saint-Laurent), H4T 1Z6
This event is being presented by PCD Solutions, in collaboration with VMware and IBM
At this event, you will be able to: 
Better understand this new Hybrid Cloud reality in Canada and its role as an acceleration platform
of your Digital Transformation initiatives
Hear VMware's Peter Near talk about the state of Cloud adoption in Canada and the current Hybrid Cloud shift
Discover why VMware's SDDC (Self-Driven Data Center) platform is becoming an industry standard with the major Cloud vendors
Talk with experts and other participants on site
Learn more about the first Cloud achievements in Quebec and the VMware Cloud/SDDC approach
Agenda
8h30 – Welcoming Address
8h45 – Opening Remarks
9h00 – Round Table
9h20 – Digital Transformation Efforts in Canada, by Peter Near from VMware
10h25 – New Hybrid Cloud Reality, by Francois Rainville from PCD
10h45 – SDDC project experiences, by Sylvain Mony from PCD
11h05– Experience from the field, by Francois Lessard from Ivanhoe Cambridge
11h45– Closing Remarks
12h00– Lunch
More info:
Operate under the new reality of the hybrid cloud
IT teams must keep operations running smoothly and, at the same time, take part in business transformation initiatives.
To meet the current expectations of users, developers, and business groups, IT teams must be able to support a variety of projects (e.g. application modernization, containerization, mobility, IoT, Big Data, business intelligence). The agility and extensibility of the public cloud may therefore become necessary.
Establishing an operational strategy based on a hybrid approach then becomes inevitable. However, this strategy must follow a series of fundamental principles and be built on an architecture that can serve as a foundation for years to come. The IT operations and automation platform chosen must be able to support the needs of current applications, new applications (mobile, cloud, container-based), and integrate with the major public cloud players (Amazon AWS, Microsoft Azure, IBM Cloud, and Google).
The role of IT teams is changing
This transformation of the role of IT teams currently taking place is a real opportunity for technology workers to demonstrate their expertise, leadership, and creativity. IT teams are expected to act as advisors or even leaders in many corporate initiatives. With the advent of the public cloud, IT teams must also reposition themselves within their organizations—taking on the role of business consultant for various internal and/or external service options. At the same time, they have become the main guardians of security, data availability, and compliance with SLAs with the different providers involved in this new hybrid cloud reality.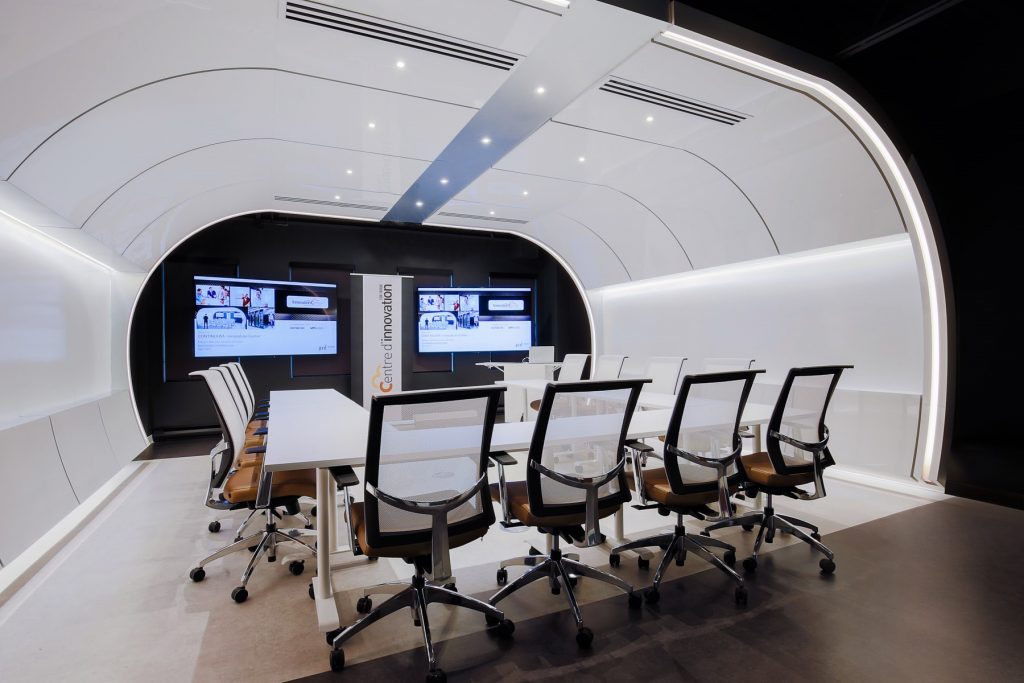 The CONTINUUM™ Innovation Centre – A First in Canada
One visit will convince you. Based here in Montréal, the Innovation Centre lets you compare and take stock of your IT practices in the context of transitioning to the hybrid cloud.
Centre dedicated to education and innovation in the field of enterprise cloud solutions
Bringing together the top specialists in the industry
State-of-the-art technological infrastructure
Integration with leading public cloud providers
Ability to clearly demonstrate VMware SDDC cloud solutions
Monitoring of market trends and the first major cloud projects in Quebec
To Register
To reserve your place at the next Forum, please email us at: continuum@pcdsolutions.com or register online on the next page.