A Health Check consists of:
Reviewing your IT architecture and your daily operational practices
Ensuring that maintenance, software updates and security fixes are applied
Performing checklists and interviews with your team members
Establishing a comparison between your current ways of doing things, industry standards and best practices, and support requirements of manufacturers, software vendors and Cloud providers.
Performing a Health Check allows you to identify optimization opportunities and potential risks that could affect your organization's security or service continuity. It also lets you evaluate whether your company's needs have changed. Our experts help you reflect on the evolution of your IT environment by providing advice and a form of technological watch regarding the most recent innovations and new practices that could be beneficial for you.
Find below a summary sheet outlining our Health Check services. Feel free to contact us if you would like further details. During the current isolation period, it is possible to organize a video call with members from both of our teams to better understand the focus areas and questions you would like to address.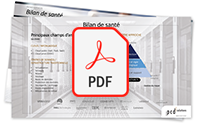 SERVICE FLYER
Health Check
IT Infrastructure | Cloud Installation
(View PDF by clicking on the overview)
Contact us
Email: info@pcdsolutions.com
Toll-free: 1-866-393-1322