VMware as a technology standard among public Cloud providers such as AWS
In the past year, we've seen VMware expand its strategic partnerships with the world's largest providers of Public Cloud Services. By doing this, VMware integrated its technology stack and Cloud management platform into the business and customer acquisition strategies of AWS, Google, Microsoft Azure, IBM and Oracle. VMware Cloud Foundation is being used in multiple ways. One is to act as a technology gateway to accelerate the conversion of companies to the hybrid Cloud era. In summary, the VMware datacenter virtualization platform (currently used by nearly 90% of companies), combined with Cloud management software such as NSX-T (network and security), vRealize Suite (Operation and Automation), and CloudHealth (Monitoring and costing) are becoming the technology standards supported by all these public Cloud providers.
VMware Cloud Foundation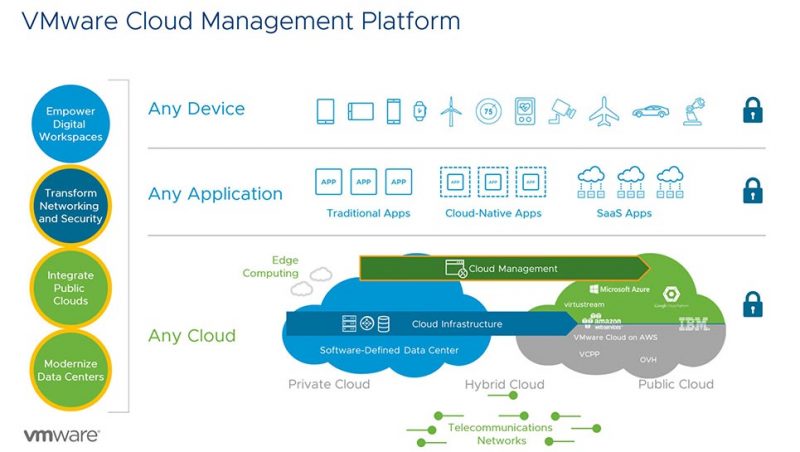 Choosing the right Hybrid Cloud management platform
VMware Cloud Foundation (VCF) is becoming the software platform of choice to create your own Private Cloud Infrastructure. Start your path towards IT process automation, creation of self-service portals, on-demand access to applications and data. The VMware VCF platform is evolving rapidly and is getting closer to the most innovative features and to the public Cloud experience. It's important to recognize that VMware is very proactive in listening to the needs of its customers and the partner community feedback. It is truly what drives their development and/or acquisition efforts towards the value areas that make a difference.
At the same time, VCF is becoming the most comprehensive platform to manage «Multi-Cloud» environments. It enables you to deploy, control and secure the services placed on Public Cloud Infrastructure providers. One of the key differentiators of the VMware platform is the ability to bring together all the operations and management of internal IT services (Private cloud) and the integration of external providers (Public Cloud) under one platform. It creates a richer, simpler, more user-friendly, consistent, and integrated experience.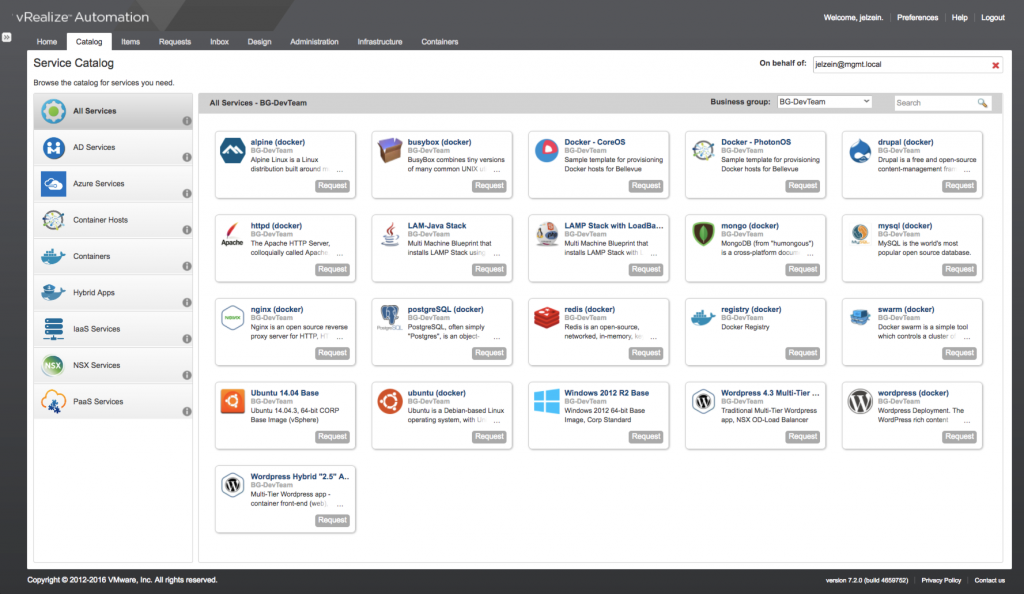 Among VMware's areas of investment and development in the last year, we can see a series of initiatives to better integrate and manage "Container" environments under VMware. Technologies such as Kubernetes and Docker are being used by developers in the context of application modernization projects and the creation of next-generation services, often using native Cloud services.
VMware's objective is to provide equivalent container management features as the Public Cloud. It also aims to provide better integration with these native Cloud services for better service interoperability and load mobility between Public and Private Cloud environments.
VMware Cloud on AWS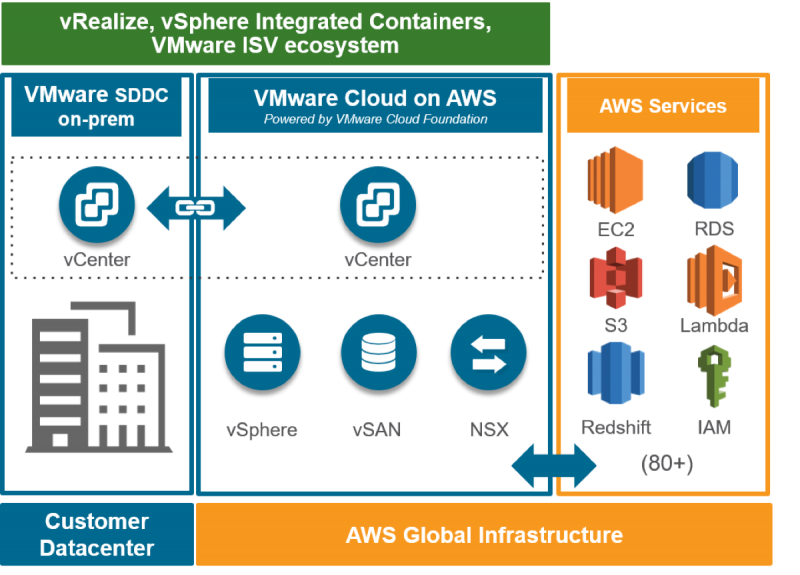 Building your own VMware Cloud directly on AWS
VMC on AWS is a solution co-developed by VMware and Amazon. It allows VMware customers to create their own Cloud environments directly on the AWS public infrastructure, using the same standards and features as your VMware environment. This hosted private cloud on AWS can be connected to your local network and systems. It can extend your existing environment, provide disaster recovery infrastructure, or act as a destination point if you plan to migrate all of your services to AWS.
One of the main benefits of the solution is the ability to activate on-demand resources. Also, it provides flexible billing options (CapEx / OpEx) just like the Cloud offers. In addition, VMC on AWS makes it possible to connect this private Cloud with the various native AWS services. Many clients say that this is one of the greatest benefits of this architectural approach.
To date, AWS offers more than 100 Cloud applications and native services in its catalog (AWS Marketplace). For several companies working on the modernization of their applications, databases, business intelligence systems, IoT integration, this direct connection to AWS native services then becomes a source of acceleration for their innovation projects.
Where do we start?
All these new options and approaches to solutions multiply the choices. Choices that require evaluation and often an assessment mandate in order to clearly define your needs and orient your approach towards the most suitable solution. Having worked for more than 5 years on the development of modern architectures with VMware and AWS, PCD Solutions can definitely help you speed up your process. The following presentation gives you a brief overview of the VMware Cloud Platform (deployed locally or on AWS).
We'll also give you a summary of our services at the various stages of your project.


Click here to view (available in French only)
Do you have any questions?
Feel free to call us. We'll be delighted to help you.
Francois Rainville
Solutions Architect
Cell 514-235-7574
Email: frainville@pcdsolutions.com