Rapid deployment and maximum agility
If your organization is reviewing its approach to supporting employees working from home, here are a few innovations to consider. In the last two years, VMware officially launched its Horizon 7 software suite. The Horizon portfolio is made up of a set of desktop virtualization, application virtualization and application publishing solutions. Its objective is to help businesses create a "Digital WorkSpace" using a Web portal to access various business and IT services, anywhere, anytime, on any device in a secure manner.
The current pandemic and extension of the lockdown period are fuelling interest in Horizon, considered a market leader. Hundreds if not thousands of Horizon solutions are being deployed across North America. Interestingly, VMware Horizon product and licence packaging was recently enhanced to offer more flexibility.
Seeing that a growing number of companies are implementing a hybrid Cloud approach, VMware formalized business partnerships with AWS and other Cloud providers. It also developed the principle of Horizon Cloud universal licences, an option that allows, for example, your company to start building its Horizon environment on its local infrastructure, then to migrate its Horizon services and loads to the public Cloud at a later time, using the same licences. Both Horizon 7 and Horizon Cloud are also now offered as subscription services.
Making Digital WorkSpace a reality
With the most recent version of its solution, VMware can integrate, through a secure portal, access to all of your applications and data services, such as:
Critical business applications;
Email and MS Office 365;
Intense graphics (3D drawings, videos);
Legacy applications;
Native Cloud applications and SaaS.
When planning and implementing Horizon solutions, the best option is still to seek support. While installing basic infrastructures is simple and standardized thanks to the HCI hyperconverged approach (vSAN-ready nodes for Horizon), some components such as AppVolume, DEM, Linked Clones and Instant Clones can require more specialized expertise.
Moreover, we generally recommend adopting a phased approach to deploying Horizon projects based on your needs and objectives, enabling you to seek rapid gains and maximize each aspect of the user experience.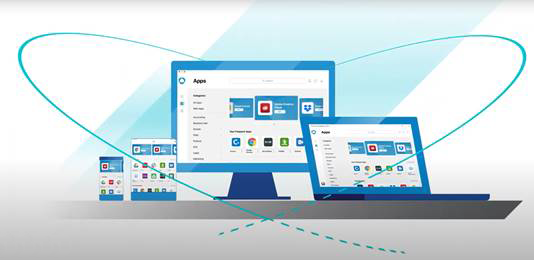 Building your Horizon solution using VMware Cloud on AWS
Horizon's technological foundation is built on VMware's Cloud platform and its components (vSphere / vSAN / NSX). Then, you realize that it is also possible to build the same solution on the public Cloud, using the same VMware principles which are already familiar to your IT team.
AWS is one of VMware's privileged partners that offers this option with an offering called VMware Cloud on AWS. This approach can be used to build your main Horizon architecture (100% Cloud-based) or to create an extension pod to complement your local infrastructure, for example, and meet temporary needs such as those we are experiencing with the current pandemic.
VMware Cloud on AWS brings many advantages to the Horizon solution, such as:
Activation ease and speed – no physical infrastructure required;
Flexibility and scalability though the "as-a-service" mode;
Continuity thanks to known VMware tools;
Ability to integrate with your local datacentre for a hybrid approach;
Connectivity to AWS native Cloud services or other Cloud providers.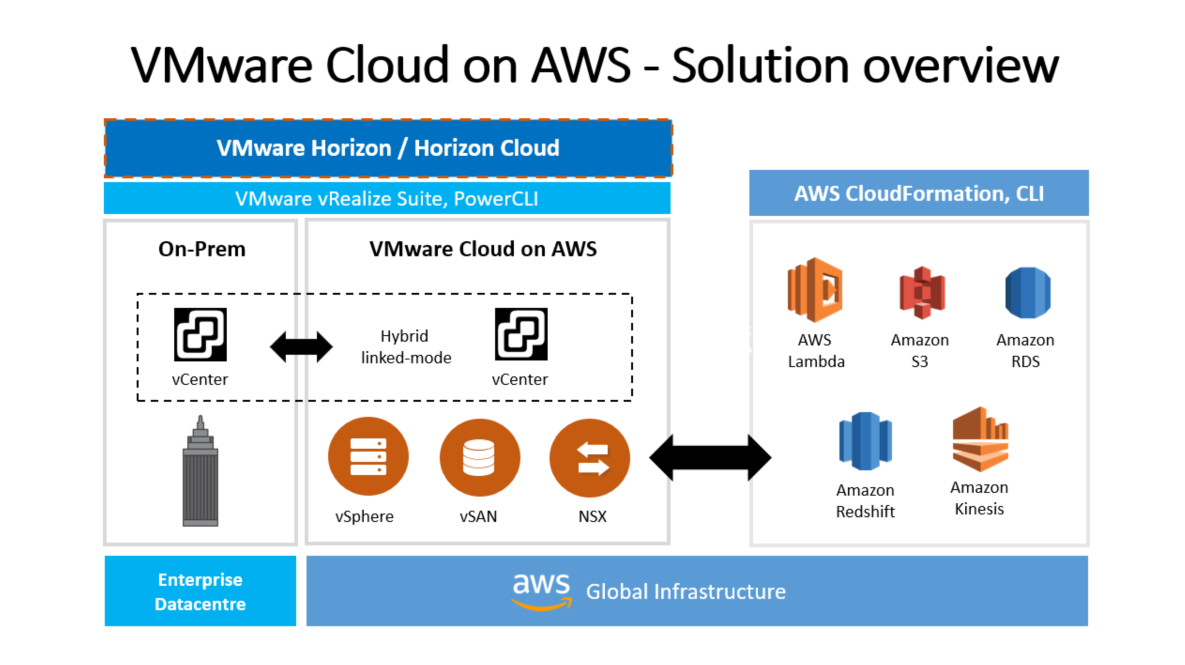 Video Resources
VMware Horizon – Desktop virtualization
https://youtu.be/haIeDcUxuDs
Demo: https://youtu.be/7KB9upVMsrY
Horizon Cloud – Horizon platform as-a-service
https://youtu.be/mBD0HtcoCNE
Demo: https://youtu.be/IHOgJDj70xM
VMware Cloud on AWS – VMware Cloud infrastructure
hosted on AWS
https://youtu.be/1pC38Cy1e84
Architecture and integration services to create a customized solution
The planning exercise to create a solution architecture and design takes several factors into consideration, such as:
Application environment – desktop, 3D drawings, videos, read/write access, etc.;
Number of simultaneous users and types;
Access contexts and devices used;
Security requirements;
Network connectivity and capacity;
Capacity of tested loads;
Functionalities deployed – workstation virtualization, application virtualization, application publication, Web portal, combination;
High availability, load balancing;
Processing and storage infrastructure;
Data protection mechanisms.
Conclusion
Implementing VMware Horizon on a 100% Cloud-based architecture eliminates delays and dependence on physical infrastructures. This strategy also helps transfer much of the infrastructure management responsibility to the Cloud provider and its IaaS services so you can focus on deploying the Horizon platform, applications and services to users. It's an option we encourage you to consider not only from a technological and operational standpoint, but financial as well.
Please don't hesitate to contact us directly should you need advice or have any questions.
François Rainville
Solution Architect
PCD Solutions