Do you believe that your Cloud strategy is producing the desired results?
The shift to the Cloud is at the heart of many companies' digital transformation strategy. Whatever the industry or size, each organization has to question its own practices and capacity for innovation. Every day, we help new leaders emerge, often born to transform their industry and to shape the market. 
Even if, in reality, innovation affects all teams within an organization, IT groups play one of the most important roles. They are often called to act as facilitators, integrators, advisors, and increasingly, as leaders in development initiatives. Mastering services and new Cloud opportunities is becoming a veritable driver in accelerating business projects. In the same way, IT teams have to be able to proactively provide solutions for modernizing existing systems and applications, which will otherwise hold companies back.
But where to start? Should we favour a public, private or hybrid Cloud approach? What are the key success factors observed? To address these various questions, the PCD Solutions / Converge team gathered several experts involved in Cloud projects in the field for its October 2021 conference. 
How fast are public Cloud services being adopted?
Wherever you find yourselves in your approach, the data we have collected on Cloud adoption, namely within Canadian companies, gives you an idea of the situation and will help you in your planning.
To view the conference video, click here (Only in french).

In short:
Strong growth observed – The Gartner group forecasts that Cloud services use will increase from US$289 billion in 2021 to more than US$400 billion in 2022. 
Big winners of this growth – Large increase in spending in DaaS (virtual workspaces) and SaaS (app services) categories, which are used in nearly 90% of companies. 
Increased IaaS discussions – More and more IaaS projects (infrastructure services) are allowing companies to expand existing datacentres, "on demand" capacity access solutions, and backup infrastructure on the public Cloud (DRaaS).
Provider proximity – Since Microsoft Azure, AWS, Google and IBM installed their datacentres in Quebec, many more companies have been considering their options, reassured to know that their data will remain local.
The pandemic factor – The pandemic created strong demand for the Cloud, mainly due to the need to quickly deploy telework spaces, collaboration services and business continuity measures. 
Ransomware attacks and data leaks – Another major factor when examining infrastructure as well as data protection and recovery measures. 
Innovation projects – The Cloud and various native services (e.g. data use, analytics, ML/AI) have become an important innovation platform. 
A transformation with its share of challenges
Even though the shift to the Cloud presents many advantages, few companies today consider that they have fully met their objectives. Identified issues or obstacles include Cloud practice level of maturity, culture change, existing legacy computer systems, preference for maintaining certain applications and data onsite, perceived security risks, lack of resources and/or training needs.
To better understand how companies are successfully addressing these issues, view the conference video by clicking here (Only in french).
Nearly 90% of companies are leveraging a hybrid approach
The hybrid Cloud approach is often the fastest and most likely to help companies successfully transition to the public Cloud. It allows them to take their current situation into account, modernize the use of existing systems, transfer the services that will benefit the most to the public Cloud, and connect business environments to the latest native service functionalities. Deploying an enterprise Cloud platform brings agility and optimizes the use of IT services. It forces companies to put in place the building blocks for secure Cloud services, both in internal datacentres and on public Cloud provider infrastructure. Lastly, it extends business resource and service management in a transparent way between the company's internal IT environment and a hyperscaler such as Microsoft Azure, AWS or others.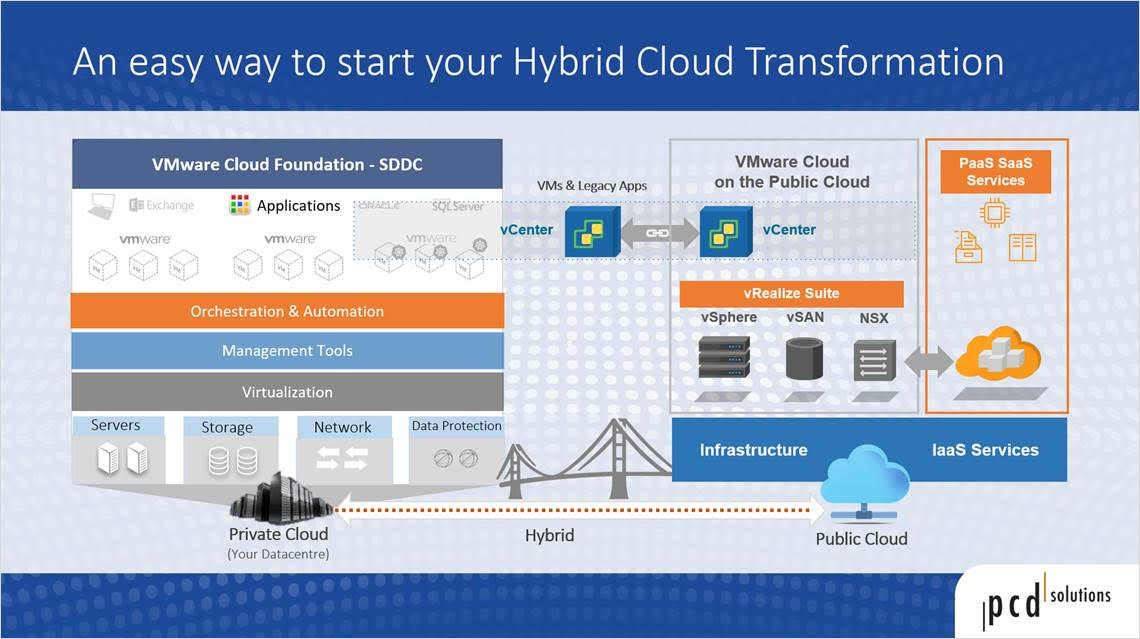 Key success factors observed
Given our experience implementing several dozen Cloud projects in recent years, we have summarized five key success factors below. 
Establish a vision and clear objectives – Structured planning right from the beginning of your project will help achieve consensus among teams.
Focus on the right use cases – Start with the best candidates, the least complexity and the greatest benefit for quick wins and team buy-in. 
Get support – Take advantage of experts who have already performed this type of mandate and who know these platforms well. 
Modernize legacy systems as soon as possible – Try to eliminate all significant obstacles to realizing the project.
Prioritize change management – It is a dynamic process.
To hear details from the presentation on success factors and best practices, view the video by clicking here (Only in french).
Thank you to our partners
This conference was made possible thanks to the participation of our partners and sponsors.
Watch the video



Need help?
The shift to the Cloud involves many choices and possible solutions. PCD Solutions / Converge can support you and share its vast consulting and technical experience in integrating its partners' solutions. Please do not hesitate to contact us to discuss your objectives and Cloud transition plans.

Mathieu Bouffard
Architecte de solutions cloud
PCD Solutions, membre du groupe Converge
_____________