Since the beginning of the crisis, our work teams have been very present in the field, supporting different clients each day. Our specialists have consequently had the opportunity to realize numerous special COVID projects in addition to attending various IT planning meetings for 2021. A strikingly clear dividing line emerges between organizations currently in "phase 1" versus those that have moved on to "phase 2."

Phase 1 – Crisis Management
Nearly half of organizations in Quebec are still reacting to the events of the last few months. They are slowly adapting to the challenges, changes and unexpected expenses brought on by the COVID-19 crisis. Their operations have slowed down. IT teams are overwhelmed and are having difficulty keeping up with new demands. The lack of agility, tools and automation is striking and tends to paralyze many initiatives' momentum. Quite a few business and/or IT projects have been put on hold. Important investments and even some planned expenses have been postponed. The priority has been, first and foremost, to put in place and maintain essential services, special measures including telework tools, backup infrastructure, service security and availability monitoring, as well as business data protection.
Phase 2 – Post-Crisis Planning
In contrast, there is another category of organizations that have gotten over the tipping point. Their IT and communication infrastructure is now in place. These businesses are actively leveraging technology and the Cloud. Employees are mastering their "connected" work environments increasingly well. These companies have, in a way, taken advantage of the crisis to organize themselves and take the digital shift by storm, in "accelerated" mode. Today, they are taking action, investing and implementing new initiatives. Reflections and projects discussed are focused on the future, such as: reviewing all leases for the Montreal region; identifying 2-3 regional sites to implement a shared workspace concept; putting in place an employee facial recognition solution and temperature control by camera; equipping and training all staff on videoconferencing and IP telephony; implementing an intranet collaboration portal; centralizing daily data backups in the Cloud; building a Web application for approval flow management, etc.
In both cases, IT teams have great challenges ahead. Our industry professionals are fortunate that technology and innovation can continue to influence and improve companies' ways of doing things after this crisis. But the real question is… how can you take your organization to the next level?
Microsoft joins our partner ecosystem
When PCD Solutions joined the Converge family in February 2020, our team almost instantly became a Microsoft Canada innovation partner. We already had in place the technical team, specialized service practices, an innovation centre, an ecosystem of infrastructure solution partners and concrete integration project experience in the field. You might say that PCD's integration with Converge was a significant acceleration factor for our own partnership and professional services strategy with Microsoft.
Converge also enjoys a strong business relationship with Microsoft as a North American integrator. In Canada, our Ottawa-based sister company, Northern Micro, is also very involved in Microsoft product resale, namely to the federal government and for several nationwide deployment projects.
PCD has taken advantage of the last few months to work very closely with Converge and the Microsoft team by getting involved in various client projects, whether in phase 1 or 2. The advantage of Microsoft's technology portfolio is indeed its extensiveness. We see an opportunity to combine Microsoft's solution portfolio with Converge's great capacity for innovation as well as our own technical implementation capabilities at the local level. Already, many new possibilities have opened up for our clients.
Here are a few examples: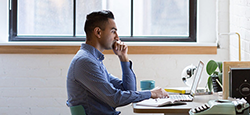 Microsoft Azure Cloud Projects
Our first link with Microsoft was through Azure Cloud services. Our specialists had the chance to work on the Microsoft Cloud thanks to various architecture and consultation mandates, mainly related to native services and implementing the Azure VMware Cloud platform. With the official Azure VMware Solutions (AVS) offer announcement, we quickly found ourselves involved in the first integration projects. Azure Cloud projects are wide-ranging: application development environments; Cloud backup infrastructure; application migration, AI projects, etc. Within these mandates, our role is primarily to help our clients articulate their strategy, define project phases and governance, establish their Cloud architecture, appropriately configure their Cloud foundations (landing zone) and manage security on Azure.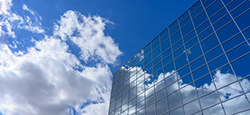 Microsoft – VMware Telework Solutions
Another area of synergy that naturally came about with Microsoft relates to implementing telework solutions. PCD Solutions is very involved with VMware in the deployment of desktop virtualization solutions using VMware Horizon. We quickly saw an opportunity to offer the solution through an Azure-based Cloud approach. Our VMware Cloud platform expertise is once again a valuable asset. In other cases, our clients sought to simplify and improve their users' telework experience, enhance performance and virtualize intense graphic processing applications. We were able to help them by reviewing their existing IT infrastructure, examining their network installations and adding specialized graphics cards (VGPU). We also help clients integrate productivity tools like Microsoft, Office 365, Exchange and the Teams videoconference and collaboration platform within Horizon. Lastly, we have just started offering the very versatile Microsoft Surface, which complements our client access workstation solutions.
Through this partnership with Microsoft, we are, now more than ever, able to offer your company complete and integrated end-to-end solutions. We therefore invite you to tell us about your difficulties or initiatives, whether in phase 1 or 2. It will be a great opportunity for us to challenge our team and our extended family at Converge.
Questions
If you would like more information on our Microsoft technology solutions and services, feel free to send us a message.
Resources
Thanks to our partners

Simon Demers
Director, Marketing and Communications
PCD Solutions, A Converge Company