Focus on business recovery 
While the last few months have been stressful and challenging, we are nevertheless now feeling renewed energy and a strong desire to relaunch business projects. Each of us, at our own pace and in our own way, use creativity in our sector. Gradually, we are starting to once again invest in business recovery initiatives. We are also more open to new ideas and to developing new markets. We are seeking to innovate and, especially, to mobilize employees around simple and common objectives. Telework is forcing us to find new ways to collaborate with our colleagues on a daily basis.
Taking the telework and mobility experience to the next level 
For the vast majority of companies, the reorganization of work practices and tools during the COVID-19 pandemic has been focused on technical capabilities such as providing remote access to email, establishing VPN links and sharing documents. Thankfully, a series of popular mobile applications and Cloud services helped complete the emergency kit deployed within organizations. These services, often free, were particularly helpful in addressing needs related to communication, team collaboration and videoconferencing.
The temporary measures initially taken quickly became the new norm in this reality we now know; a reality that moreover raises the question of work tool options in the medium and long term and of the new standards to adopt in the future. For many organizations, extending telework into January, or even March 2021, forces IT teams to consider their business departments' needs. What is the optimal organization of these tools? What are the main applications and Cloud services used? In what context are they used? What are the company's security issues? In short, they must define the building blocks that make up this new Virtual and Digital Workspace – a critical step before launching this type of project.
Are you the VPN Access or Digital Workspace type?
Whether it be to increase your team's productivity or in preparation for a possible second wave of the pandemic, the Digital Workspace concept is the next step in the evolution of work environments and in enterprise Cloud integration. Often associated with virtual desktop infrastructure (VDI) technology, these next-generation IT solutions have already seen a sharp increase in use, especially since the beginning of the crisis, both in the corporate sector and within public organizations.
Most office workers now use Windows computers, either a desktop at their office or a laptop. Their profile and applications are installed and executed locally, depending of course on the capabilities and performance of the workstation used. We generally use VPN technologies to create a secure access tunnel through the Internet to connect to the company network, servers, file services and databases*.
In the case of Virtual Workspaces (VDI or RDSH), the user's Windows desktop is executed on a virtual machine placed directly in the enterprise datacentre (or now often on the Public Cloud). This means it is accessible anywhere, anytime, from any device. It's a little like your Netflix, Office 365 or Gmail account, but for the entirety of your work environment and tools. It brings together under a single access portal all of your enterprise data and applications while improving user experience and security control. Service management, support and deployment are therefore completely centralized. Creating new virtual desktops using pre-defined user profiles is almost instantanous. Activating and deploying them in the field only takes minutes. 
Obviously, in the context of the current pandemic, the question has never been more relevant: Traditional VPN approach or Digital Workspace?
Even before trying to determine which approach is best, you need to ask yourself this question: how would you define "Best" for your company?
The most user-friendly and flexible solution?
The least expensive solution to deploy?
The least expensive solution to operate (OPEX)?
The best protection and security for your enterprise data? 
The best user experience? 
The highest performing solution based on your application mix?
The most integrated solution ready to benefit from the Cloud?
The solution that will work for the greatest number of users?
The capacity to manage office desktops, personal computers (BYOD) and their lifecycle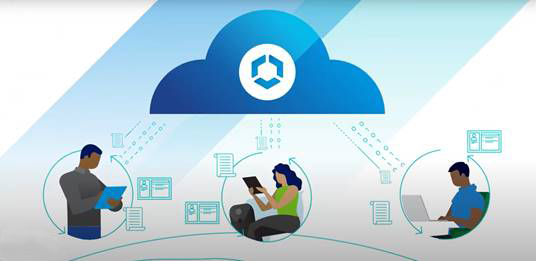 So which of these approaches should you choose for your future needs? The short answer is: "You should go with the option that makes you the most comfortable." I see the Digital Workspace / VDI solution as a far superior option and especially the best adapted to today's realities. However, if you have never used VDI before and you are in a hurry to deploy the solution, make sure you have an excellent integration partner to support you. The PCD team invested over three years to truly master each facet of these solutions' implementation. We also built an entire Lab in our Innovation Centre to help our clients perform various proof of concept exercises.
As for VPN access solutions, if your team's experience managing Windows client devices is limited, know that the adventure has just begun! Managing a fleet of laptops remotely, updating them and deploying applications and security fixes through VPN will be just as complex.
Therefore, very often companies find themselves with a mix of both. There may be users or locations where it is more appropriate to use one technology over the other. In any case, many factors contribute to this shift to Virtual Workspaces, namely the growing need for mobility, the multi-device reality, technology maturity, user familiarity with the Cloud and SaaS applications, etc. In addition, these projects are easier to justify technically and financially since they are more and more supported by business imperatives such as improving productivity, reinforcing security, shifting to the Cloud and attracting new employees, thanks to modern and high-performing tools.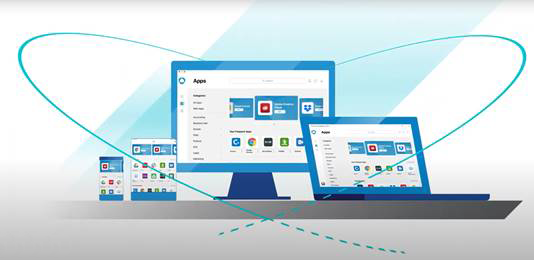 Among the most mature and widespread Digital Workspace solutions on the market, VMware is a must-have with its suite of software solutions: VMware Horizon, Horizon Cloud, Horizon Apps and others. For a number of years now, VMware has mastered desktop virtualization and application publication principles, allowing it to offer customers effective, stable and reliable solutions. The company has also made a series of acquisitions to integrate, one by one, products, patents and the most recent innovations, giving it a significant edge over the competition. Horizon offers just as many options for local solutions or as Cloud-based SaaS services. VMware has established a network of partners to help deploy solutions. Additionally, PCD's team of service professionals works as a specialized integration partner certified locally on many Horizon projects. 
To help you understand VMware Horizon and how it works, here are a few recently published videos and an overview of the solution architecture.
Video Resources 
VMware Horizon – Workstation virtualization 
Intro presentation: https://youtu.be/haIeDcUxuDs
Horizon Cloud – Horizon platform as-a-service
Intro presentation: https://youtu.be/mBD0HtcoCNE
Demo: https://youtu.be/IHOgJDj70xM
Horizon Apps – Application publication 
Intro presentation: https://youtu.be/tIxB0X2caQo
VMware Cloud Foundation – Foundamental building blocks of your VMware Cloud infrastructure
Intro presentation: Click here
In collaboration with


Solution architecture illustration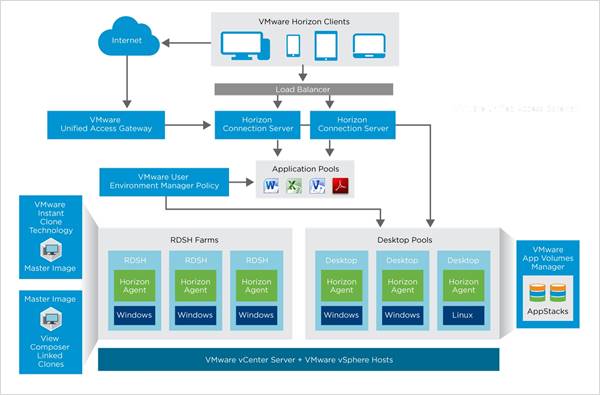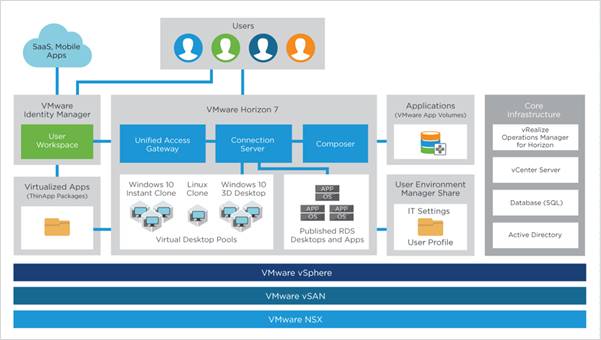 Hundreds of VMware Horizon solutions have already been deployed in Canada, namely in the financial and insurance sectors, healthcare and services, transportation companies, retailers and government. There is often a "departmental" or "application-specific" use, and the user experience and benefits for these organizations are highly effective. This positive technology experience is one of the main factors behind the increasing number of VMware Horizon projects. 
We believe that the ongoing pandemic plays a major role in accelerating projects and implementing Virtual Digital Workspaces and VDI infrastructure. In short, many companies are preparing for the years to come and are making sure they are able to support teleworking and data security control, while promoting productivity and collaboration within their teams.
*NOTE – Since publishing this article, another publication has been added: VMware Horizon… now available 100% Cloud-based on AWS or MS Azure. Click here to read the article.
Jimmy Grondin
Solution Architect
PCD Solutions