If you would like to read the article on Part 1 of the conference first, click here.
Moving to the hybrid Cloud era
Market conditions and the adoption of IaaS / PaaS / SaaS services show us that the transition to the public Cloud is well underway. And yet, many systems are still not modernized and some applications need to be rewritten before they can fully be moved to the Cloud.
Nearly 90% of companies are now leveraging a hybrid approach in which legacy environments, virtualized services and the latest generations of applications can coexist. Eager to increase agility, efficiency and capacity for innovation, businesses are seeking to integrate their activities with major Cloud providers. Even though the path to application modernization is perceived as particularly complex, there are in fact different ways to accelerate companies' transition to the Cloud and native services. Indeed, this was one of the main goals of the second part of our conference.
The best way to illustrate the current situation and these new opportunities is often to revisit a few real-life examples of companies we have recently assisted. While the starting point and objectives of these organizations may vary, their approaches are similar, beginning with the questions they had to ask themselves.
For example:
To which of the company's current business objectives can the Cloud transition initiative be linked?
Is this a temporary need or a permanent direction?
What are the particular advantages / benefits that we want to achieve through this solution?
Which business applications or services would be the best candidates to start this transition to the public Cloud?
What are the anticipated impacts of this transformation on our technical team and operating practices?
How will we ensure data protection and security in the Cloud?
What key factor is motivating your project?
Motivations to shift to the public Cloud vary from one company to another. I would even say that they change over time within the same company. However, the desire to simplify IT operations and consolidate infrastructure (or even completely eliminate a datacentre) is often at the heart of discussions. These days, the emphasis is on application projects and security management. Infrastructure updates and technology replacement still keep teams busy, but bring very little value to the business.
We have seen that clients often try to compare costs between various possible solutions (onsite, collocation, public Cloud). They want to move to next-generation applications and services while avoiding the complexity and expenses associated with modernizing and maintaining installations.
The true shift to the Cloud begins when organizations successfully identify their needs and the solution's orientation. They discuss the transition from a CAPEX financial model to an OPEX one. They assess their current situation, various processes in place, service level expectations, and the future evolution of their environment. Then, they evaluate the different impacts of the transition to a Cloud operational model and, of course, the training and knowledge development needs. To view the detailed presentation, watch the video (Only in french).
The VMware Cloud platform's role in the transition to hyperscalers
VMware Cloud supports and facilitates the transition to the public Cloud by allowing companies to structure and deploy a Cloud operational model internally and/or on an hyperscaler infrastructure. In so doing, they can build the structure and acquire the key operational tools needed to manage the new multi-Cloud reality. This way, environments hosted on Azure, AWS or Google simply become an extension of their existing IT environment.
The platform also lets companies choose the most relevant applications, services and transfer these workloads to the public Cloud at their desired pace. Businesses can therefore leverage all of the advantages of the public Cloud with a secure, flexible approach that minimizes operational changes and risks.
Our experts examined the most popular use cases of VMware Cloud on the public Cloud and have highlighted the possibilities using real-life examples.  To view the video, click here (Only in french).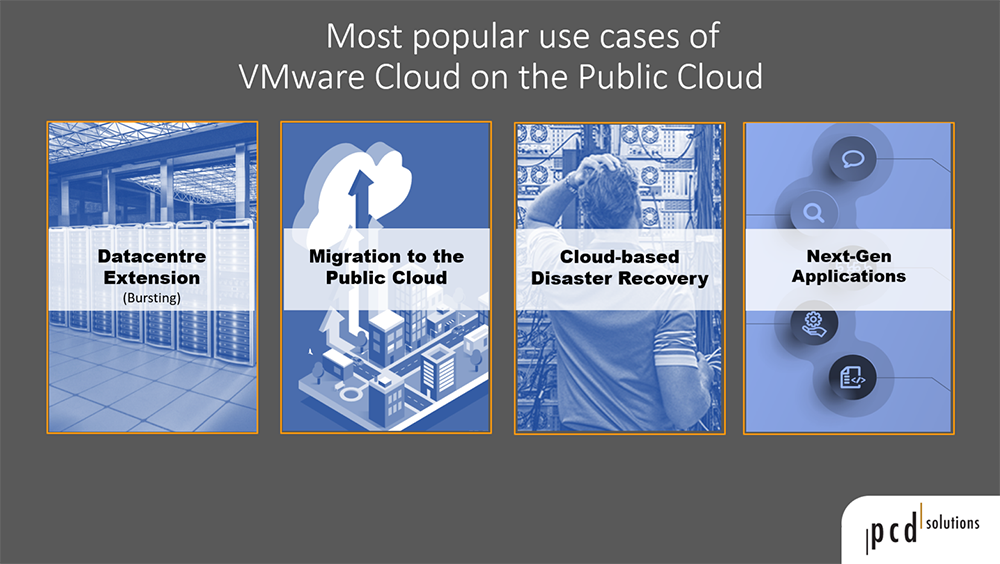 Use case 1 – Datacentre extension, temporary environments on the Cloud
Challenge: Launching new projects or lines of business often means IT teams have to increase processing and storage capacity at their installations. They must therefore deal with these new, often temporary, needs, and put in place the desired infrastructure as quickly as possible. In the current post-pandemic context, they are sometimes faced with unusual equipment delivery delays, which slow project completion.
Solution: VMware Cloud services on the public Cloud are an efficient and ultra-fast alternative that doesn't compromise security or performance. They allow companies to activate instances, allocate resources and implement a complete Cloud-based work environment in just a few hours.
Solution benefits:
Fast and agile implementation of new services; efficient business project support
Flexible resource management, elastic "on-demand" expansion / retraction capabilities
Easy transfer of virtual machines and current services to the public Cloud; ability to return to existing client infrastructure if necessary
Service operation by the same IT team, with the same tools and consoles, and the same operational practices, standards and security requirements as internally
Direct connection to native Cloud services and various innovation tools
Use case 2 – Datacentre consolidation / elimination, service migration to the public Cloud
Challenge: Many companies are currently looking to simplify their operations, streamline costs and consolidate existing datacentre infrastructure. They are assessing the option to migrate part or even all of their applications and services to the Cloud.
Solution: If the majority of a company's services are currently managed using the VMware platform, VMware Cloud on the public Cloud offers the possibility to transfer all of these environments at once. Companies can therefore take advantage of the Cloud and focus their modernization efforts on remaining applications.
Solution benefits:
Significant reduction in space use and costs related to datacentre operation
Quick transition of applications, services and virtual machines to the Cloud
Simplification of IT operations thanks to managed services and automation
Reallocation of time and resources to more strategic functions
Environment scalability and expansion capabilities
Direct connection to native Cloud services and various innovation tools
Use case 3 – Critical services recovery in case of disaster or ransomware attack (DRaaS)
Challenge: Using the VMware Cloud platform on the public Cloud for backup purposes is attracting a lot of attention, particularly due to the increase in ransomware attacks. Given the urgency to implement effective protection measures, companies are working to develop new means to ensure business continuity and protection of sensitive data. At all times, they require an isolated and protected copy of data stored outside their environment to ensure recovery of main systems.
Solution: Based on each company's requirements, namely RTO and RPO expectations, several solutions are possible. The VMware Cloud platform offers different recovery solutions and allows businesses to choose the one that is best suited to their objectives and budget.
Solution benefits:
Scalable and entirely automated Cloud-based recovery service
Seamless integration with existing VMware environments
Consistent and familiar management approach thanks to the same tools and consoles your IT teams already know
Secure and reliable solution
Ability to perform various tests and simulations
Adaptable solution that grows with your company
Thank you to our partners
This conference was made possible thanks to the participation of our partners and sponsors.
Watch the video



Need help?
The shift to the Cloud involves many choices and possible solutions. PCD Solutions / Converge can support you and share its vast consulting and technical experience in integrating its partners' solutions. Please do not hesitate to contact us to discuss your objectives and Cloud transition plans.

Francois Rainville

Architecte de solutions, VMware et Cloud
PCD Solutions, membre du groupe Converge
_____________